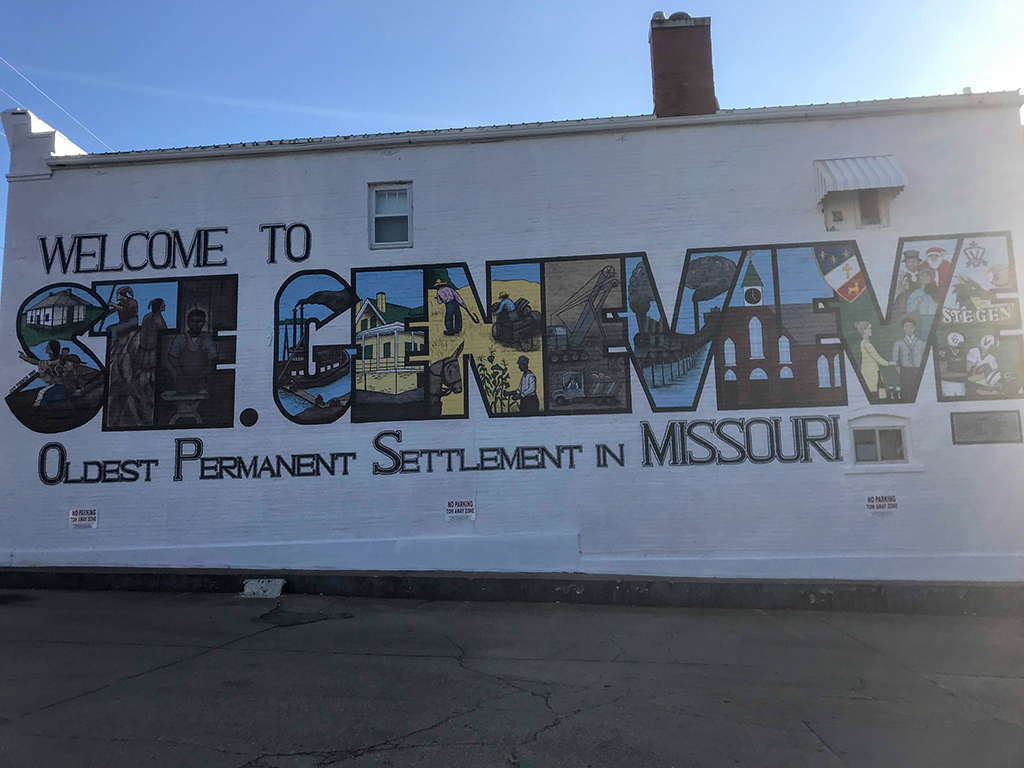 While very few good things happened in 2020, it genuinely warmed my heart that on October 30, Ste. Genevieve National Historical Park was established as a unit of the National Park Service.
I can guarantee you that Ste. Genevieve is a national park unlike any you've ever seen. And I have a special connection to it. It's where my dad grew up. As a result, it's also where my family and I would endure the five-hour car ride from Kansas City multiple times a year to see my grandma and various relatives.
Ste. Genevieve, if you're curious, is a little town about an hour south of St. Louis. It was established in 1750, the first and oldest European settlement in Missouri. French architecture dots the town, as the French Canadians were the first to settle there. The town is beautifully preserved, and walking through the streets feels like stepping back through time.
When I was young, I didn't quite grasp the importance of the little borough. It was simply a spot where every Easter was spent eating comfort food at the Old Brick House, throwing rocks into the banks of the Mississippi, and running down to Sweet Things to get as much candy as $10 could buy.
The older I became, the more I appreciated my little vacation spot. I began getting more involved with the town's activities; working as a volunteer tour guide at one of the historic homes, selling various trinkets during the annual Jour de Fete arts festival, and getting involved with local small businesses.
This is a national park with so much to offer its visitors. So, it's with a lot of love that I bring you a comprehensive guide on what to do in Ste. Genevieve. I hope it brings you as much joy as it's brought me.
Last updated on March 17, 2021. Written by Maggie Stanton of Broke Girl Abroad. This page may contain affiliate links.
Where to Stay in Ste. Genevieve
The Southern Hotel
The Southern Hotel was right across the street from my grandma's apartment! It's a grand building that's been in operation for over 200 years. There are few things more quaint than sitting on one of the porch rocking chairs taking in the sites.
Guests can take their morning coffee and stroll through the garden, relax in one of the parlors or hang out in the game room. It's elegance personified.
While the hotel is closed at the moment due to the pandemic, keep your eyes peeled for when it reopens. Go ahead and treat yourself to a whimsical stay. If you're visiting soon, here are some options to book that remain open.
Where to Eat in Ste. Genevieve
The Old Brick House
If you enjoy Southern comfort food, give the Old Brick House a try. If nothing else, you can claim to have eaten at the first brick building west of the Mississippi, which is a pretty neat claim to fame. Many of the regulars are fond of the massive buffet, and in the backroom, you can catch a glimpse of the original stove.
The Anvil Saloon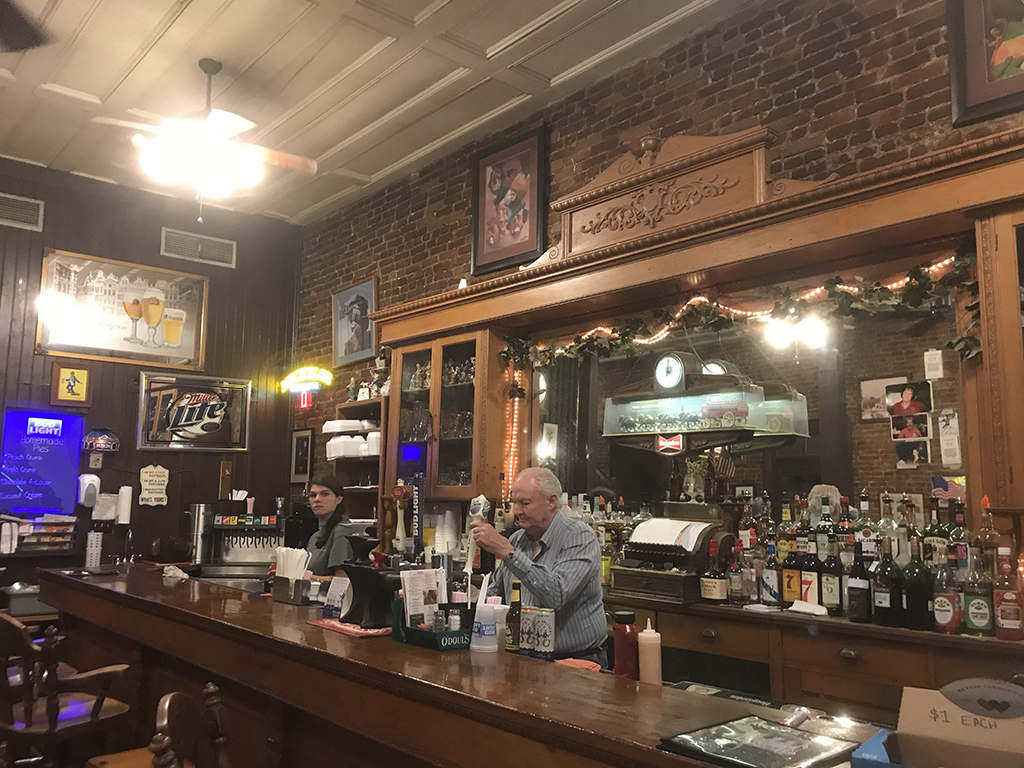 The Anvil Saloon has been in operation since 1855. As you walk in, take note of the massive bar. It was brought in by steamboat up the Mississippi River. Makes me thankful for delivery. If you're in a large, hungry group, I'd order the famous onion rings. The Anvil distributes onion rings like Five Guys distributes fries; so many all at once. I'm also a huge fan of their homemade pies. If the apple pie is on the menu, grab a slice. It's my favorite.
Sara's Ice Cream
This little spot is like a 1950's soda counter come to life. Old Coca-Cola posters and knick-knacks are scattered throughout. Hop on a stool and order whatever looks good. There really isn't a flavor that I don't like.
Callier's Meats & Deli
Callier's is a place my dad loves so dearly that he'll pay whatever amount necessary to have meat shipped down to Kansas City. You could go hog wild like my dad and load up on everything in sight, or just grab a sandwich and chips for lunch. Hard to go wrong either way.
Things to Do in Ste. Genevieve
The Centre for French Colonial Life
Remember when I said I was a volunteer tour guide back in the day? This is where it all took place. The Centre is where you'll pick up your tickets to enter the two historic homes: the Louis Bolduc House and the LeMeilleur House. There's quite a bit to see at the Centre and it'll give you a good primer for the French colonial life in the homes you'll explore.
Not to play favorites, but the Louis Bolduc House is arguably the more impressive one. The LeMeilleur House next door, originally used by Louis Bolduc's daughter and son-in-law, exchanged several hands over the years and many original items were lost. Still, it's a neat place to visit, but I'm pretty set in my beliefs that the Louis Bolduc House is the crown jewel of it all.
Louis Bolduc was a wealthy merchant, and the house reflects his fortune. He had large glass windows installed and the rooms in the house were huge for the time. Three furniture pieces in the home are original and the rest has been added to reflect the original colonial style.
Ste. Genevieve Catholic Church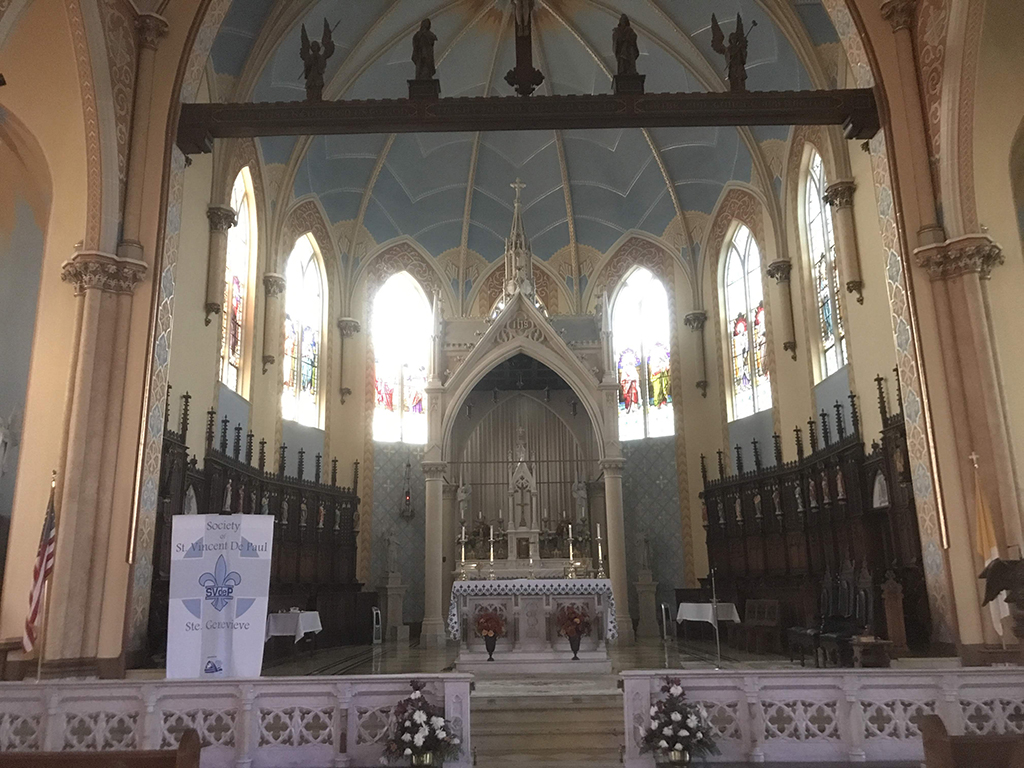 My memories of the Ste. Genevieve Catholic Church mostly involved Easter service. We spent hours in our nicest outfits trying not to fidget. The grandeur of the church is easily lost on small children, but I digress.
The bell tower is heard every hour on the hour. To find the church, all you need to do is look for the steeple. It sits nearly 200 feet high and is visible for miles.
The church was dedicated on September 29, 1880. Stepping inside is, in a word, breathtaking. The columns reflect the building's massive size and the stunning stained glass windows each depict a different biblical scene. I'd recommend visiting at sunrise or sunset if possible, to see the glass sparkle through the sunlight.
At the time of the build, the cost was $24,000. $18,000 had been donated by my ancestor, Mrs. Odile Valle. My roots in Ste. Genevieve run deep, although nowadays I doubt $18,000 would even restore one of the stained glass panes.
Felix Valle House State Historic Site
The Felix Valle House, much like the Centre for French Colonial Life, consists of multiple properties. In this case, you will tour the 1818 home of Felix Valle, the 1792 Amoureux House, and the 1819 Dr. Shaw House.
The Felix Valle House is the highlight here. You'll find the original mantle and antique furnishings, not to mention the mock storefront. Felix Valle was a merchant, and the home also served as his place of business. So to give you an idea of what it all looked like, a mercantile store is on display, showcasing what would have likely been sold during that time.
Oh, and the place is definitely haunted. Ask the staff. They have stories and that are absolutely wild to hear.
4th Friday Art Walk
The fourth Friday of every month from February to November is a fun time for window shopping. 4th Fridays mean business, literally. Expect stores to extend hours from 6 to 9 p.m. during the art walk so visitors can have more time to peek at various goods. If you're an art aficionado, begin your evening at the Ste. Genevieve Welcome Center. Guides will show you the current collections on display and provide a map to the galleries downtown. Some locations even serve refreshments, because you can't look at art on an empty stomach, right?
P.S. I've found that 4th Friday is a good alternative to the Jour de Fete festival. Jour de Fete takes place in August, and if you've ever visited Missouri in August, you may already be cringing. It's fun, but it's hot. 4th Fridays give you a taste of the experience in much better weather.
Pickle Springs Natural Area
If you're a nature lover, Ste. Genevieve has a few fun options for you as well. I'm fond of Pickle Springs. It's about a 25-minute drive outside of historic downtown.
Pickle Springs, like downtown Ste. Genevieve, is considered historic, but for a different reason. The climate and setting make it ideal for supporting plant life. In total, over 250 vascular plant species can be found, including many that are considered glacial relicts. So you're quite literally stepping back in time.
Beyond the Jurassic Park-level plant life, the 2-mile trail loop offers some spectacular views. You can check out the sweet little waterfall (the park's namesake), some amazing bluff overlooks, and the unusual rock formations that come with thousands of years of erosion at play.
There are also quite a few small parks surrounding the town. In the fall, it's especially pretty. If you're in need of a little green space, check out Valle Springs Park, the Lions Club Park, or the Pere Marquette Park.
Pin 10 Things to Do in Ste. Genevieve National Historical Park
Hopefully, those picks of mine give you a good idea of the gem that is Ste. Genevieve. While I may be a bit biased, seeing as this was my childhood vacation spot, I really do think anyone and everyone will enjoy a little trip to this historic town. If you do end up going, let me know what you think! You can find me at brokegirlabroad.com or on Instagram @thebrokegirlabroad.
While you're visiting, check out the other national parks in Missouri. Safe travels!
All photos and content in this post are credited to Maggie unless otherwise stated.