If you've ever visited a national park, you've probably witnessed the obsession: a visitor who walks into a visitor center, eyeing a park ranger while making a stamping motion with their hands, or maybe you've heard the ultimate question, "where's the stamp?". These visitors are clued into one of the most fun ways to remember your national park vacations: the national parks passport.
It may seem silly at first, but ultimately, this is a free souvenir! You could be a casual collector or a serial stamp seeker. People are extremely passionate about the national parks passport program. Are you ready to jump on the national parks passport book bandwagon?
This post was updated on May 22, 2021. This page may contain affiliate links.
What is the National Parks Passport Program?
The Passport to Your National Parks® Program began in 1986 with Eastern National, one of the most popular concessionaires across the 400+ national parks. With the exception of Hohokam Pima in Arizona, each national park site offers a cancellation stamp. Some parks have a variety of stamps, usually differing at each visitor center.
How Does it Work?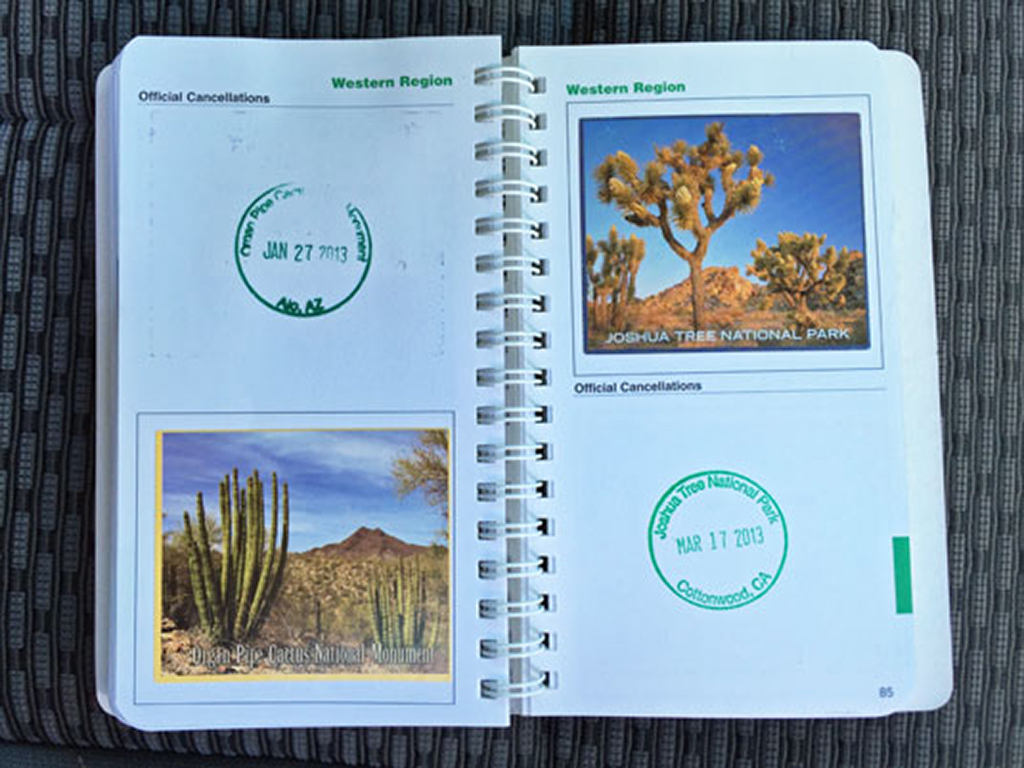 One of the things I love about the national parks passport is that it's highly customizable. There is a way Eastern National intended the books to be used, but you can ultimately decide what you want your passport to look like.
Each national parks passport book is divided into color-coded regions, each featuring a few states plus one region for Washington, D.C. There is a map at the beginning of each style of the book. Some also have colored tabs on the sides of each page to help you navigate. The parks you visit should also have colored ink pads that match the designated region colors.
Depending on the book you have, there may or may not be a designated spot for each park. If there's not, you can stamp, or cancel, your book anywhere in the appropriate region.
Next, you'll also see a place for "stamps". Eastern National refers to the ink stamps as cancellations and the stickers they sell as stamps. It's up to you whether you'd like to purchase the stickers and place them in your passport book as well.
How Much Does the National Parks Passport Cost?
Technically, you could participate without spending any money! The national parks passport itself does cost money, but the stamps are free. You could easily stamp small pieces of paper, national park maps, or anything else you'd like and it wouldn't cost you a dime. As I said, this is a free souvenir!
However, if you'd like to purchase one of the official national parks passport books, there are a few options. Plus, purchasing these sends your money directly back to the national parks!
National Parks Passport: Classic Edition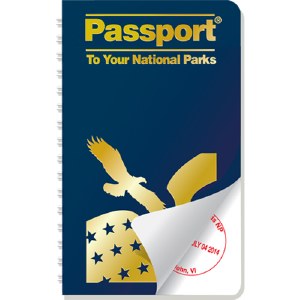 This little notebook is the classic passport companion. It's equipped with 112 pages and is smaller, about the size of a postcard, so it's easy to fit inside your backpack or pocket. It also comes with a map of all 400+ national parks sites to help you plan your national park visits.
The one downside to this one is its small size. There are only 4-5 pages for each region. If you're like me and you've been to over 200 national parks, you'll likely need something larger. It does have few extra blank pages in the back if you run out of space.
National Parks Passport: Collector's Edition
The collector's edition is great for frequent national park travelers like myself. I upgraded to this one after purchasing at least three of the smaller classic passports and running out of space.
The largest difference in the collector's edition is its size. It has a designated space for each national park (though it is missing some that were established after its publication). This means the book is significantly larger at 7.5 x 10 inches. There are 192 pages, and it still has extra space in each region for larger or extra stamps.
Like the classic edition, this one also comes with a map of all 400+ national parks. There is also a checklist of all the national parks in each region. Again, its accuracy depends on when it was published.
If you'd like even more freedom to customize, there's still one more passport option for you.
National Parks Passport: Explorer Edition
The explorer edition is the ultimate national parks passport for a frequent traveler or someone who wants more creative freedom with their passport. This is the largest passport and comes in the form of a binder. You can add expansion packs, also pictured, should you run out of space. The options are essentially unlimited!
If I could go back in time, I would have purchased this passport instead of the classic edition in order to have more space (and to never run out of space!).
Tips for Your National Parks Passport
This excellent keepsake will quickly become one of your most treasured souvenirs, so it's important to keep it safe and tidy. Here are some of my best national parks passport tips:
Bring smaller labels with you on your trips and keep them in a sealable plastic bag, then place them into your book when you get home. This way, your book doesn't get lost and you have more space to pack. It's also much lighter this way. Furthermore, if you stamp on the labels you can stamp multiple times to ensure your memories are inked perfectly.
Many parks will have small pieces of scrap paper for you to stamp and glue into your book later. If you don't want to purchase labels, this is a good way to take advantage of the free program.
If you miss out on getting your stamp, you can always contact the park and ask for one. Send them a letter including a self-addressed and stamped envelope and which stamps you're requesting, and they'll get them out to you as soon as they can. I'd also send the labels!
You don't have to stamp a national parks passport – any book will do! Let your creativity shine and stamp blank journals or lined journals so you can jot down your memories. Or, use a dotted journal for more freedom to stamp, draw, and write!
Plan Your National Park Trips:
Pin Why I Love the National Parks Passport