One of the best things about national parks is how easy it can be to see things we can't see in our own backyards. Whether you hope to catch a glimpse of large mammals, gliding birds, or creepy crawlies, our national parks are some of the absolute best places in America to view wildlife. The list below features 13 of our favorite national parks for wildlife watching. You'll read about some of the incredible animals featured in each, plus alternative national parks for wildlife viewing with similar species lists.
This post was updated on December 12, 2020. This page may contain affiliate links.
Wildlife Viewing Safety and Logistics
Before we dive into the best national parks for wildlife, it's important to discuss how to see wildlife safely. While viewing wildlife in national parks is exciting, it's also very important to remember that these are wild animals. Unlike what you may see at a zoo, they are untamed and unpredictable. Here are some quick tips for viewing wildlife safely:
Never approach wild animals
Do not feed wild animals
Allow plenty of space between yourself and wild animals. If an animal is reacting to your presence, you are too close!
Do not call at, yell at, throw things at, or otherwise harass wild animals. This includes calling to animals in the hope that they look at your camera.
Read More About Wildlife Safety
When to Look for Wildlife
Animals tend to be most active around dawn and dusk. However, the best time depends on what you hope to see. For example, some animals are nocturnal, such as bats. Others, like bears, hibernate during the colder winter months. Be sure to think about these logistics ahead of time depending on the animals you're searching for.
What to Bring
First and foremost, you'll want to capture your wildlife sightings. Bring along a decent DSLR camera and telephoto lenses or zoom lenses. If you can't afford these, I find my Canon Powershot has a really powerful zoom in a small, affordable package. If you aren't hoping to capture images but still want a better look at animals from a safe distance, bring a pair of binoculars. You may also be interested in carrying animal tracks or animal scat guides so you can identify signs of wildlife you see when exploring national parks.
The Best National Parks for Wildlife Sightings in the United States
1. Big Bend National Park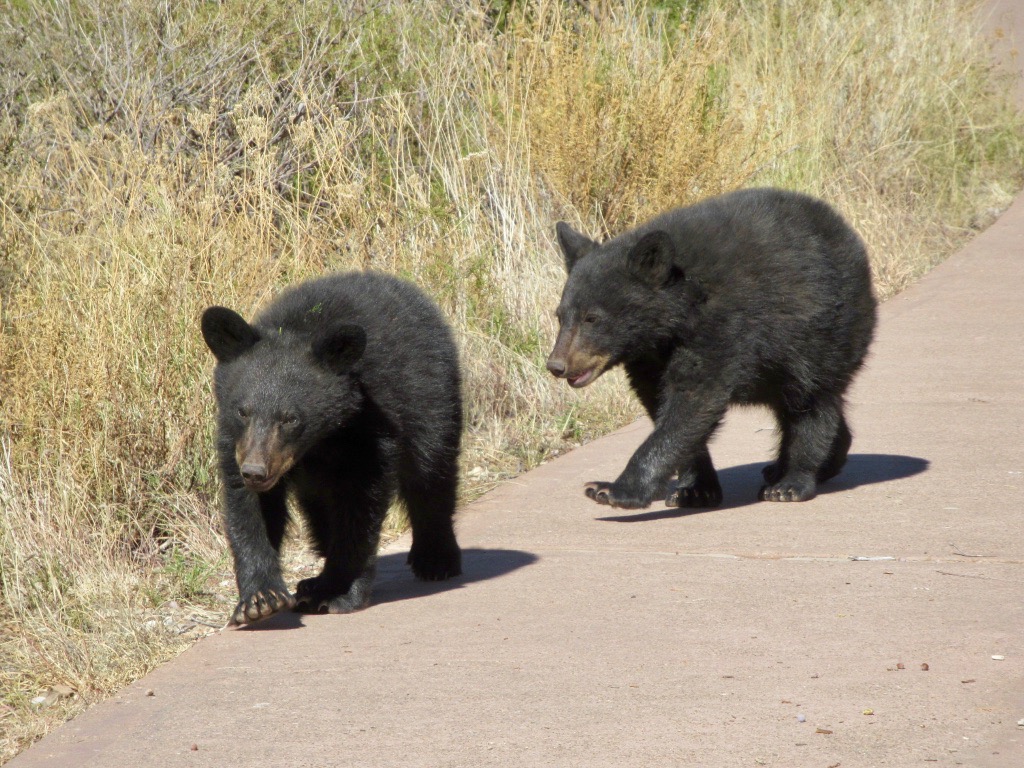 Big Bend National Park is one of the most unique national parks in the United States. One of my favorite things about this park is the variety of ecosystems and habitats. This grants the park a long, diverse list of species that makes it one of the best national parks for wildlife viewing.
In the mountainous Chisos Basin, you may see Mexican black bears or Bighorn sheep. In the more desert landscapes below, look out for javelinas, coyotes, jackrabbits, or mule deer. Furthermore, Big Bend National Park is one of the best places in the country to see hundreds of birds during annual migrations. In fact, according to the park's Chief of Interpretation, there are "more species of birds, butterflies, bats, scorpions, ants, reptiles and cactus than any other unit in the National Park Service."
Species: birds, tortoises, snakes, reptiles, lizards, black bears, bighorn sheep, ringtails, bobcats, jackrabbits, deer
Alternatives: Joshua Tree, Saguaro, and Guadalupe Mountains offer similar species in their own unique desert landscapes.
Plan Your Trip to Big Bend and Joshua Tree National Parks
2. Channel Islands National Park
Channel Islands National Park is nicknamed the Galapagos of North America. Why? Because it is one of the best national parks for wildlife viewing in America.
Channel Islands is known for having a plethora of endemic species you can only find on this unique set of isles off the coast of Southern California. There is also amazing diversity in the types of animals you can see here. Despite the small size of these islands, they are teeming with mammals and birds. In the surrounding waters, marine life migrating to warmer seas are often spotted during the boat ride.
Species: Channel Islands fox*, deer mouse*, spotted skunk*, birds, gray + humpback whales, dolphins, porpoises, sea lions, seals (* = endemic)
Alternative: Acadia is another place to see hundreds of birds and migrating marine life.
Plan Your Trip to Channel Islands and Acadia National Parks
3. Denali National Park
One of my favorite national parks for wildlife sightings is Denali National Park. Thanks to their robust bus system, you are riding higher above the landscape with hundreds of extra eyes scouting for animals.
Denali is one of the best places to safely see grizzly bears in the wild. The park is also home to other species not commonly found in the rest of the United States, including arctic ground squirrels, wolverines, and golden eagles. In the fall, moose rut is an exciting time to see bull moose with large sets of antlers while migrating sandhill cranes fly overhead. In peak years, you'll also find a large number of snowshoe hares or Canada lynx depending on the timing of their cycles.
Species: grizzly bears, moose, wolves, Dall sheep, sandhill cranes, lynx, fox, snowshoe hares, ravens, golden eagle, gyrfalcon, wolverines, arctic ground squirrels
Nearby Alternative: Wrangell-St. Elias is another park you can drive to and search for animals.
Plan Your Visit to Denali and Wrangell-St. Elias National Parks
4. Dry Tortugas National Park
Dry Tortugas National Park is filled with diverse wildlife, including sea turtles that inspired the park's name.
Around the campground and beaches, you'll find hundreds of hermit crabs, especially at night. The campground is also home to rats pilfering for food.
Walk along the moat walls and peer into the ocean below for a chance to see amazing fish or even sea turtles. Furthermore, the park sees hundreds of migrating birds every year. The next key over, Bush Key, is closed to the public to protect these important species. Don't forget your binoculars!
Species: birds, hermit crabs, sea turtles, tropical fish
Alternative: U.S. Virgin Islands National Park also hosts a wide variety of tropical species.
Plan Your Visit to Dry Tortugas National Park
5. Everglades National Park
Few parks have more wild animals than Everglades, making it one of the best national parks for wildlife.
This is the only place on the planet where you can see both alligators and crocodiles due to the brackish water. The park's distinct districts help provide prime habitat for a variety of species.
On the Gulf Coast, take a boat tour to search for pelicans, dolphins, and manatees. Visit Shark Valley to find alligators, egrets, herons, and hundreds more birds. Next, visit Flamingo for a chance to find crocodiles, manatees, and even flamingos.
Before the introduction of the invasive Burmese python, you could see many more mammals in the park. Now, it's becoming increasingly rare to see even a raccoon. Protect wild animals – don't abandon your pets in the wild.
Species: alligators, crocodiles, manatees, wood storks, ibises, flamingoes, egrets, herons, eagles, bobcats, Florida panther, armadillos, freshwater turtles, pelicans
Nearby Alternative: Big Cypress National Preserve is nearby and features many of the same animals with half the crowds.
6. Glacier National Park
In northern Montana, Glacier National Park hosts a plethora of exciting species. While hiking the park's many trails, you may see mountain goats, bears, pika, or marmots while birds fly overhead.
The park features two types of bears (brown and black) in addition to multiple ungulate (hooved) species. You may see elk, bighorn sheep, deer, or mountain goats during your visit. In addition to the variety of small mammals, Glacier is easily one of the best national parks for wildlife.
Species: elk, moose, mountain goats, bears, bighorn sheep, marmots, pika, mountain lions
Alternatives: Rocky Mountain and Mount Rainier have similar climates and species.
Plan Your Visit to Glacier and Rocky Mountain National Parks
7. Great Smoky Mountains National Park
Many of the parks on this list are found on the west coast, but that doesn't mean that the east coast doesn't have amazing national parks for wildlife. One of those places is Great Smoky Mountains National Park.
In addition to a few ungulates, like white-tailed deer and elk, you can also find the usual mammals here, including bears, coyotes, foxes, and more. There's also a special event every year when an influx of fireflies shine their bright lights.
One of the best places for wildlife viewing in the Smokies is the Cades Cove Loop Drive. For elk, take a drive to Cataloochee Valley. Be sure to add these to your itinerary!
Species: white-tailed deer, black bears, fireflies, salamanders, elk
Alternatives: Shenandoah, Blue Ridge Parkway
8. Hawaii Volcanoes National Park
For an entirely different array of animals than any other national park on this list, head to Hawaii. You'll see more endemic species here than any other listed here. This includes the state bird, a type of goose called the Nene.
Other birds you may see include the io and honeycreepers. Keep your eye out for some cool insects as well, such as endemic caterpillars or giant dragonflies.
Also in Hawaii, you will likely find hawksbill sea turtles.
Species: nene, io, honeycreeper, caterpillars, giant dragonflies, hawksbill turtles
Alternative: Haleakala National Park on Maui has a similar species list.
9. Katmai National Park
Is there a more famous national park for wildlife than Katmai? At its famed Brooks Falls, hundreds of grizzly bears arrive every summer to hunt for salmon. You can also see a few birds here, but the grizzlies certainly steal the show. Much larger than those in the interior of Alaska (in parks like Denali and Wrangell-St. Elias), it's worth the flight to visit this amazing park.
Species: Bears, salmon
Alternative: Lake Clark is another great place to see grizzly bears in the wild.
10. Kenai Fjords National Park
Also in the Great White North, Kenai Fjords is home to many different species than the other Alaskan national parks for wildlife on this list.
On their popular boat tours, you have the opportunity to see migrating whales, seals, sea lions, porpoises, and so much more. From the docks, keep your eye out for bald eagles roosting above or otters floating in the waters. On our tour, we actually saw mountain goats as well!
Species: whales, dolphins, porpoises, birds/puffins, seals, sea lions, otters, mountain goats
Alternatives: Glacier Bay, Olympic
11. Theodore Roosevelt National Park
Famous for the wild horses that roam free, Theodore Roosevelt National Park is home to an array of animals.
One night camping in the south unit, I heard owls hooting, coyotes yipping, and elk bugling. By day, we saw some of the famed horses while hiking. We also saw bison, prairie dogs, and so much more. This is one of the least visited national parks, but one of the best for wildlife viewing. It's especially nice to see the wildlife without the crowds!
Species: wild horses, bison, elk, prairie dogs, coyotes
Alternatives: Assateague Island and Cumberland Island National Seashores also have wild horses.
12. Wind Cave National Park
You may not picture Wind Cave and think it's one of the best national parks for wildlife, but this park is about so much more than its underground mazes. In the cave, you may find a few bats. But the surface is where the true menagerie is found.
In my opinion, the trails, scenic drives, and overall surface of Wind Cave is the park's best feature. While hiking or driving, you may see bison (some of the world's purest genetic bison, in fact), elk, bighorn sheep, pronghorn, and deer in this ungulate showcase. Smaller mammals, such as prairie dogs and the reintroduced black-footed ferrets, are also found here.
Species: bison, bats, elk, bighorn sheep, black-footed ferrets, pronghorns, mule deer, prairie dogs, bobcats, jackrabbit, snakes
Nearby Alternative: Badlands National Park has a similar species list (without the underground wonders).
13. Yellowstone National Park
Last on this alphabetical list, but certainly not least, is Yellowstone National Park. This geologic wonderland will always be considered one of the best national parks for wildlife.
Known as the American Serengeti, you'll find a true variety in this corner of Wyoming. A huge highlight, hundreds of bison dot the meadows (or stand in the road and cause traffic jams). You also have the chance to see wolves, especially in the park's famed Lamar Valley. Hayden Valley is another popular wildlife viewing spot. If you hope to see elk, visit the Mammoth Hot Springs area – they're usually hanging around.
Species: bison, elk, wolves, bighorn sheep, moose, brown and black bears, bald eagles, trumpeter swans, sandhill cranes, pronghorn
Nearby Alternative: Grand Teton National Park has similar species, and is located just down the road.
Plan Your Visit to Yellowstone and Grand Teton National Parks:
Pin the Best National Parks for Wildlife Sightings