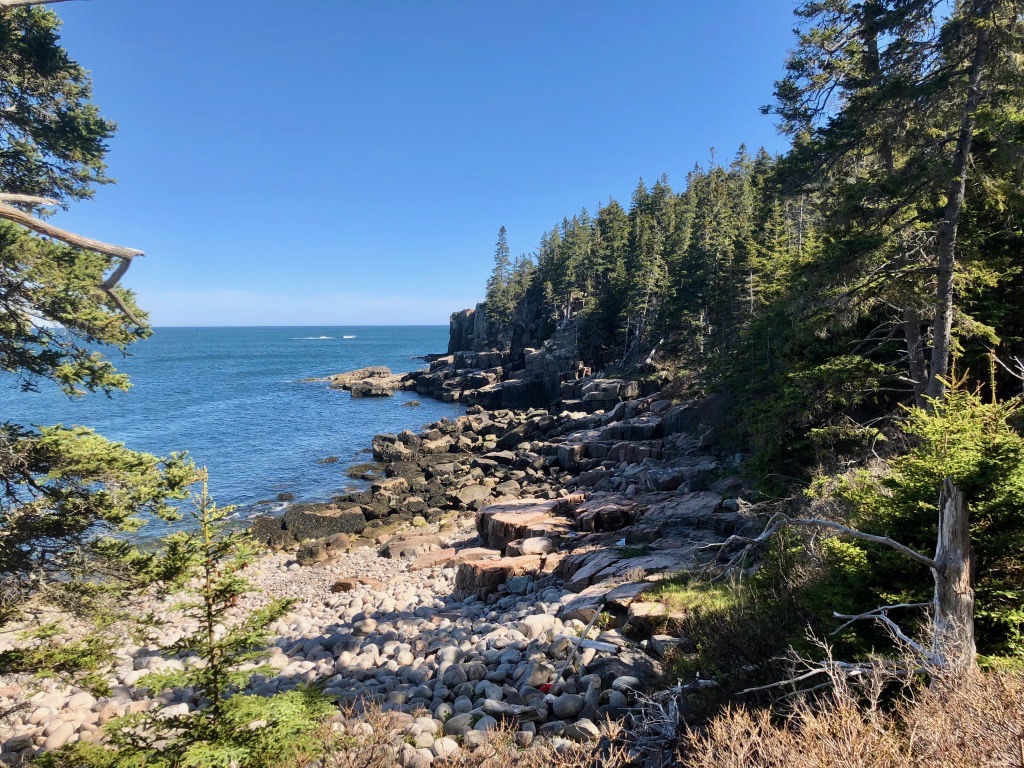 If you are looking for the best of Acadia National Park, then look no further than its main attraction – The Park Loop Road. A 27-mile drive, this loop features incredible scenery on every turn. This is an experience that will not be forgotten any time soon.
The Park Loop Road delivers sparkling lakes and ponds, towering granite peaks, rocky coastline, and lush forests. The best of Mount Desert Island can be seen from the roadway or viewpoints along the way. Make sure you don't miss a single highlight by following our Park Loop Road Tour outline below.
This page may contain affiliate links.
Logistics of Driving the Park Loop Road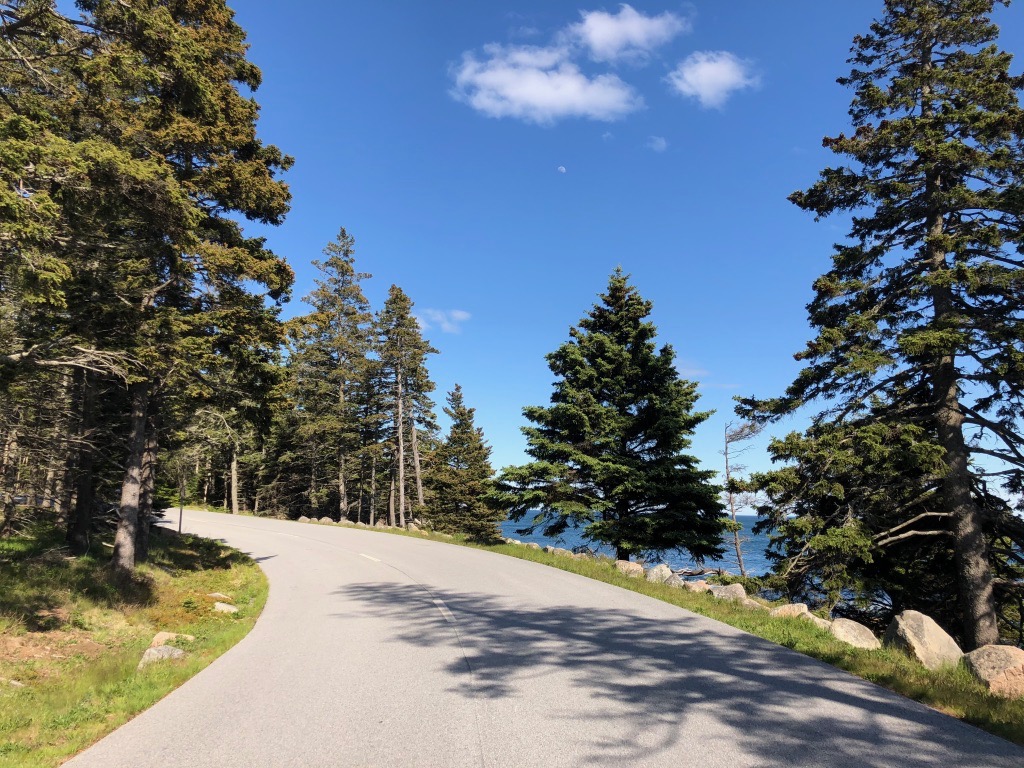 Distance: 27 miles (including the road to the summit of Cadillac Mountain)
How Long Does it Take?: Depending on your travel style, driving the Park Loop Road could take all day or just a few hours. There are many places to stop and get out along the way in addition to trailheads for many of the park's famous hiking trails.
Speed Limit: The speed limit for the Park Look Road is 35 mph or slower where posted. Abide by this in order to allow for pedestrians, bicycles, and wildlife to share the road.
When to Go: The Park Look Road is open from April 15 to November and closed in winter. While it is beautiful year-round, some of the best scenery can be enjoyed in fall during peak foliage (generally in early-to-mid-October). Weather permitting, the road is open 24 hours per day.
Cost: $30 per car (valid for 7 days). This can be paid online prior to your visit (be sure to print your receipt) or purchased upon arrival at Thompson Island Picnic Area, Hulls Cove Visitor Center, Sand Beach Entrance Station, the Village Green in Bar Harbor, the Cadillac summit gift shop, Jordan Pond House, or the park campgrounds.
One-Way Travel: One section of the Park Loop Road is one-way only. There are multiple points where you can exit/enter, but you may only drive in one direction on this particular section.
RV Travel: Be aware of certain bridges that may be too low for an RV to pass and roadways where RVs are not permitted. The lowest bridge along the Park Loop Road is 10 feet 4 inches. RVs are not permitted on the Cadillac Summit Road or beyond Schooner Head Overlook.
Parking: One of the biggest logistical challenges of visiting Acadia National Park is parking. For this reason, if you plan to stop and take a hike, I highly recommend taking the Island Explorer, a free bus system that runs throughout the park and on Mount Desert Island. Furthermore, on the one-way section of the road between Bear Brook Picnic Area and Jordan Pond, parking in the right lane is permitted unless otherwise posted. Do not pull off of the road; all four tires must be on the pavement to protect fragile park resources.
Wildlife Crossing: Deer frequently cross the Park Loop Road. Keep an eye out in order to avoid a dire accident.
Every Stop to Make on Your Park Loop Road Tour in Acadia National Park
Hulls Cove Visitor Center: Starting Point
The first stop for many park visitors is the Hulls Cove Visitor Center. Here, you can get some great advice from a park ranger on what to see and do in Acadia National Park.
The visitor center also has a few amenities like restrooms and water filling stations. Furthermore, you can purchase your park pass here. You'll find gifts and snacks at their store as well.
When exiting the visitor center parking lot, you will come to a four-way stop. Continue straight to officially begin your journey onto the Park Loop Road.
Scenic Overlooks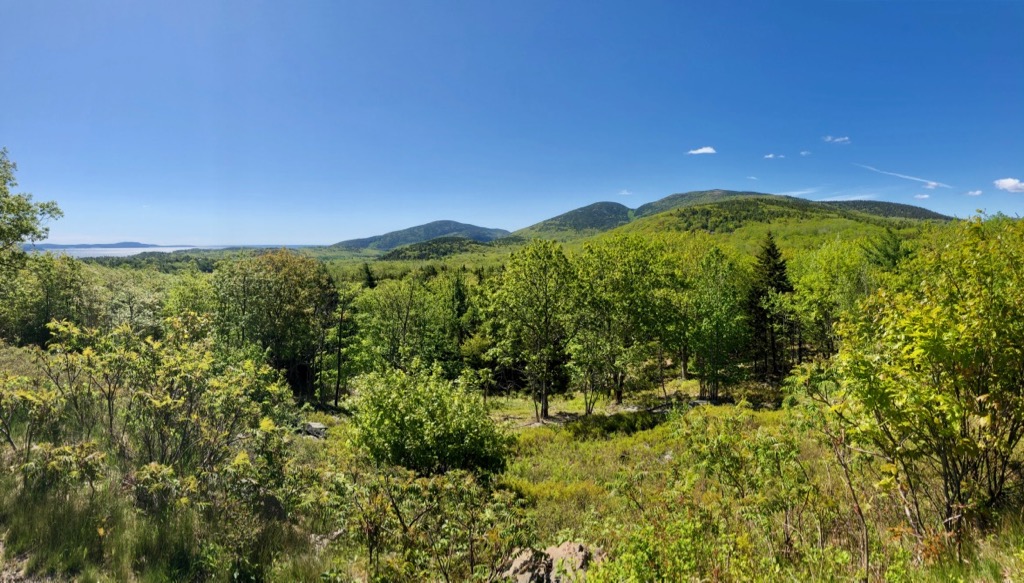 The first overlook on your left provides an amazing view of Frenchman Bay. You can see a variety of islands, some protected by Acadia National Park. You can also see the Schoodic Peninsula, the only portion of Acadia on the mainland.
The next overlook, also on your left, showcases Cadillac Mountain to the right with Dorr and Champlain Mountains visible behind it as well. Hiking to the summits of these peaks is something that I recommend if time permits. They're some of the best hikes in Acadia!
You can also drive to the summit of Cadillac, which is included on your Park Loop Road tour. It's also popular for sunrise.
Furthermore, this overlook shows where the Great Fire of 1947 impacted the forest. If you look closely, you can see the fire's path by studying the types of trees. Deciduous trees grew quickly after the fire burned while the evergreens remained untouched.
Next, follow signs for Sand Beach to enter the one-way section of the Park Loop Road. This is about 2.5-miles after Hulls Cove Visitor Center and will be a sharp left turn. It's the third left after one turn for Bar Harbor and another for Highway 233. If you wish to visit Cadillac Mountain or Jordan Pond first, continue straight.
Sieur de Monts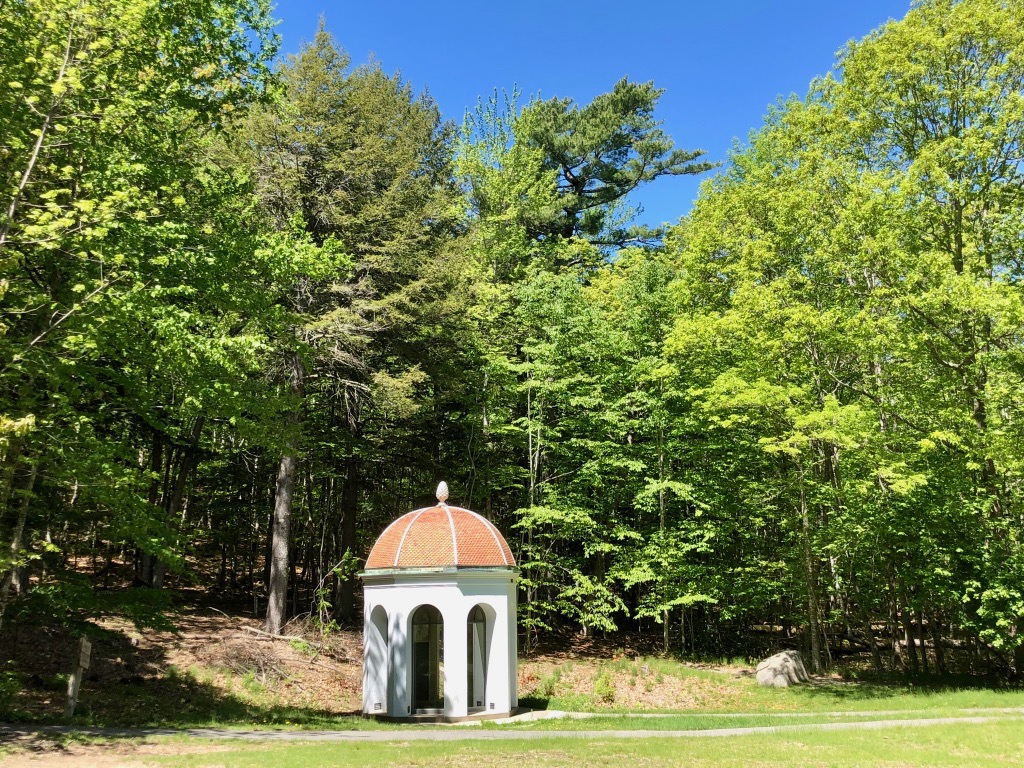 Sieur de Monts is another gateway for Acadia National Park visitors. You can continue on the Park Loop Road from here after enjoying many of the area's attractions. Furthermore, a variety of trails start here and ascend to the top of area peaks, including Dorr Mountian.
First is the Sieur de Monts Nature Center, a cozy building staffed by park rangers. The information inside details the research currently underway by park scientists.
Across the walkway, the Wild Gardens of Acadia is a lovely spot for an easy stroll. The plants featured in the garden are all native to Mount Desert Island.
Next, the Abbe Museum showcases the history of Native Americans in the area. This small building houses artifacts collected by Dr. Robert Abbe and was the original Abbe Museum. Now a satellite location, the main museum is located in downtown Bar Harbor. The wigwam house near the spring is a popular attraction as well and displays the traditional home of local tribes.
Finally, the Sieur de Monts Spring House can also be found here. George Dorr, long regarded as the father of Acadia, constructed the well over this spring in 1909 to protect the pure water. He hosted marvelous Garden Parties here before donating this and adjacent land to the National Park Service.
Precipice Trail Parking Area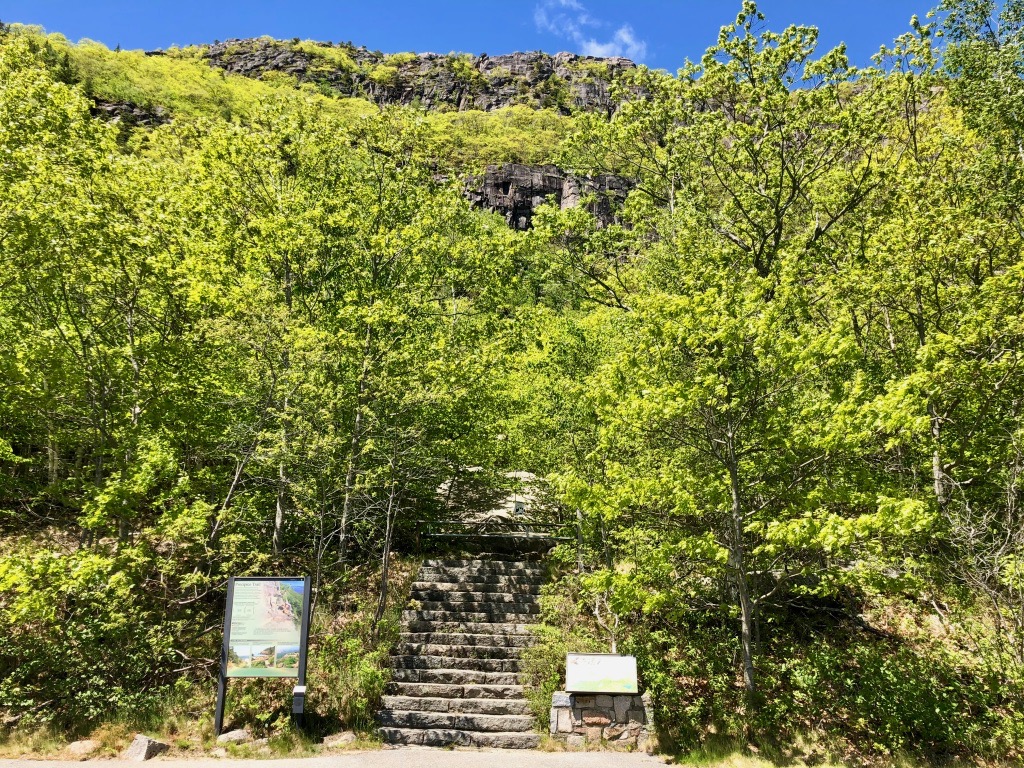 Continuing on the Park Loop Road, next you'll find the Precipice Trail parking area on the right.
The Precipice Trail is widely known as the most challenging and therefore most rewarding trail in the park. If it's open during your visit here in Acadia National Park, this trail is a must-see and an exciting adventure to undertake with those who are brave enough!
Using a series of iron rungs and ladders, you'll climb a cliff face on Champlain Mountain to reach the summit. For more details, read my guide to hiking the Precipice Trail. It's a famous favorite in the park.
Depending on the time of year, there may be closures to protect a pair of Peregrine Falcons nesting on the cliff. These amazing birds are one-of-a-kind and can dive bomb at speeds exceeding 200mph. That makes them the fastest animals on the planet!
If you visit during the nesting season (typically March to August), then you're likely to find trail closures. They're extremely protective of their nest, eggs, and chicks so please adhere to closures in order to preserve this endangered species as well as yourself.
If the trail is closed, the area is still worth a stop to try and catch a glimpse of these magnificent birds.
Schooner Head Overlook
If you're up for a quick detour, the Schooner Head Overlook is located on the left between The Precipice Trailhead and Sand Beach. There's a small parking area here that allows you to get out and enjoy an amazing view overlooking Frenchman Bay.
If you continue a bit beyond the overlook parking area, there's another small parking area for the Great Head Trail, a popular option for overlooking Sand Beach and looking back at the Park Loop Road.
After the spur to Schooner Head, you'll come to the Sand Beach Entrance Station. If you did not purchase a pass at the Hulls Cove Visitor Center, you can do that here. This is also where you will need to show your park pass if you have one.
Sand Beach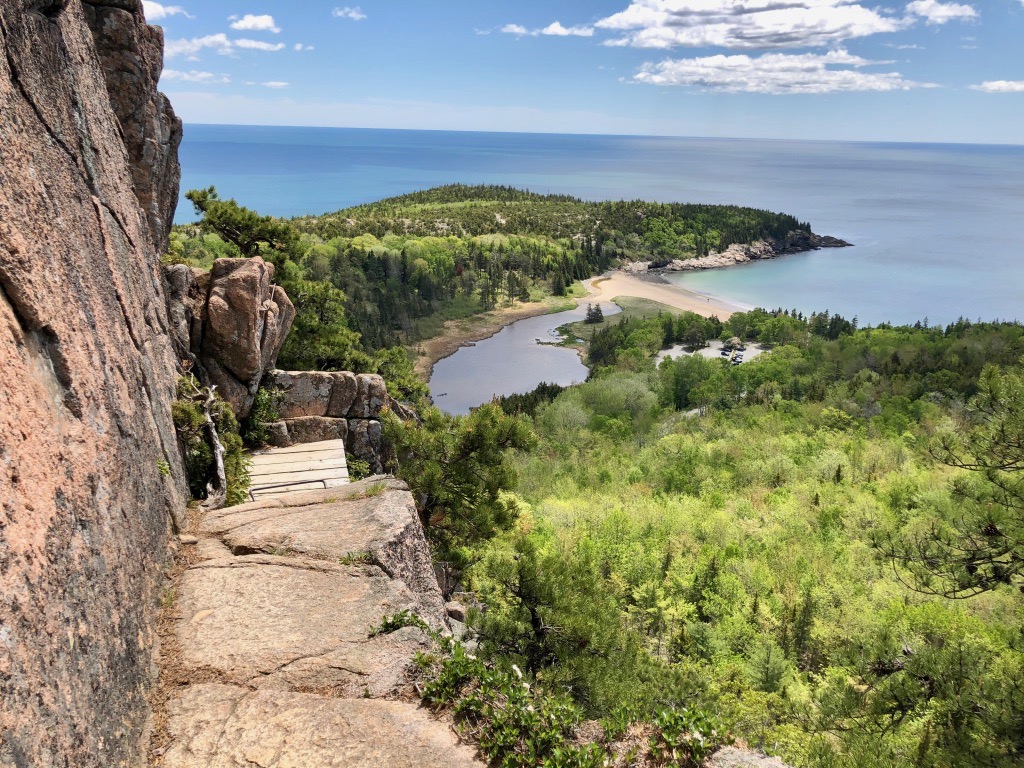 Acadia National Park is the perfect destination for those seeking a reprieve from their hectic lives. For some, this means exploring miles of wooded trails and climbing mountain peaks. Others enjoy watching as waves crash onto Sand Beach's pristine shores or simply soaking up rays.
One of the main attractions and most popular things to do in Acadia is to visit Sand Beach. This is one of the only pristine sand beaches on Mount Desert Island as opposed to the typical stone or rocky shoreline. It's also the only true sand beach in Acadia National Park.
On warm summer days, the shore is lined with sun-soaking visitors and a few brave souls cooling off in the ocean (despite the average temperature of 55-60 degrees F).
The parking area can fill quickly, so arrive early if you plan to hike. Trails that start nearby include Great Head, Beehive, and Ocean Path, some of the most popular hikes in Acadia National Park.
The Beehive Trail (pictured above) is a well-known alternative to the Precipice Trail during annual closures and also features a variety of iron rungs to allow for a cliff-hugging climb.
Thunder Hole
Another one of the most popular attractions in Acadia, Thunder Hole is our next stop on the Park Loop Road.
While many will compare this to (or even call it) a blowhole, that couldn't be more incorrect. Thunder Hole is actually a small sea cave. When waves come through, the water traps air inside which creates a thunderous sound that echoes in the cave and delights visitors.
To actually experience Thunder Hole during one of these thunderous roars is a bit rare. Most visitors hear a gurgle or some sloshing at most. Some say that you should arrive during the incoming high tide for the best chance at hearing a boom, but this does not guarantee anything. It largely depends on the waves and how calm the ocean is when you visit.
The best time to see Thunder Hole is actually during a storm, though this is not recommended. If Thunder Hole is raging, park rangers may close the area for visitor safety.
Otter Point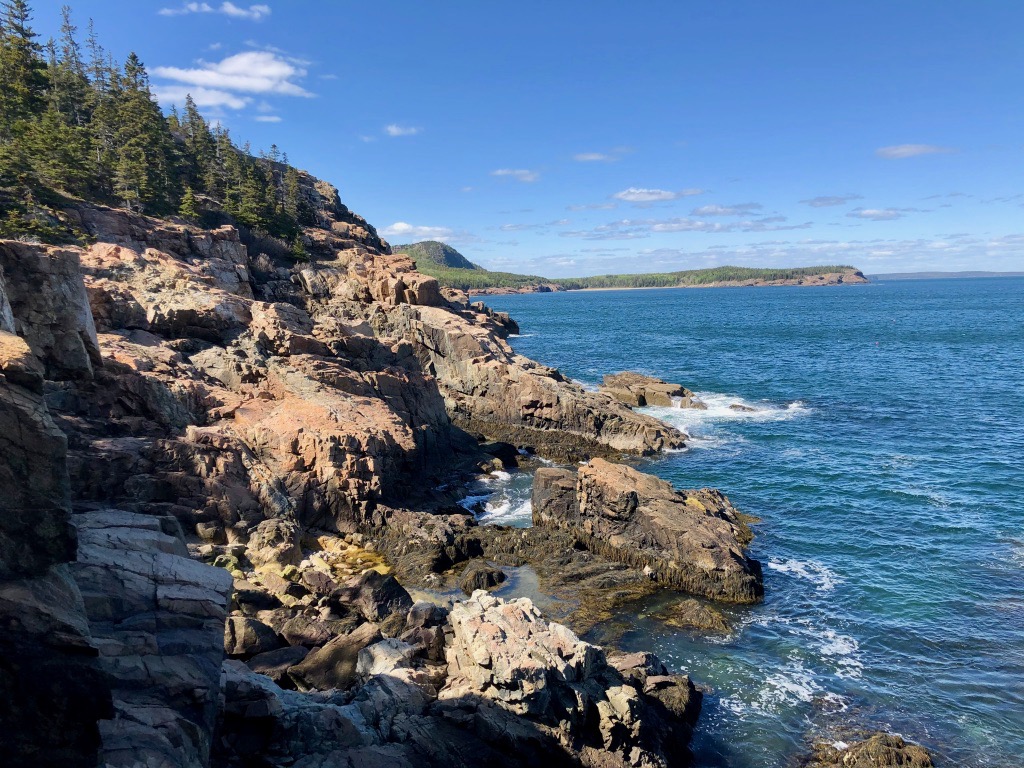 On the other end of the Ocean Path trail that parallels the Park Loop Road, you'll find the majestic cliffs of Otter Point. This overlook is well-known for the rugged rocky coastline that Maine and Acadia are so well-known for.
In addition to its beauty, the area is also known for tidepooling and rock climbing.
Exploring just off the Ocean Path makes it possible to find pools full of colorful plants and sea critters. For your safety, go tidepooling only during periods of low tide and never turn your back to the ocean. Wear shoes with a good grip in order to hug the slippery rocks tightly.
Otter Cliffs is one of the prime rock climbing destinations in Acadia. If you're new to the sport, you can schedule lessons with some vendors in Bar Harbor.
Little Hunters Beach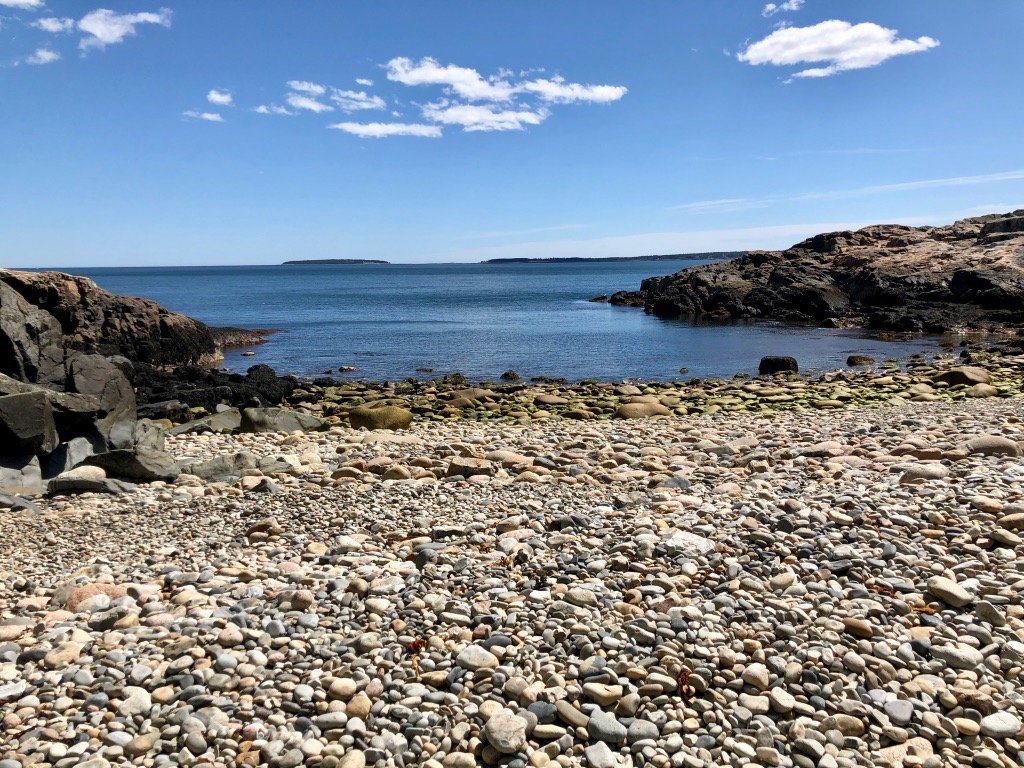 While there is no sign for Little Hunters Beach, it is marked on the official map for Acadia National Park. There is a small parking area on the side of the Park Loop Road.
The beach is a great spot for peace and quiet as well as a place to study geology. The cobblestones here tell the unique geologic story of Acadia National Park. Visit as the tide comes in to hear the waves rushing through the cobbles, a remarkable sound that's difficult to describe.
Soon after Little Hunters Beach, you will find Wildwood Stables. This is where the traffic pattern changes and two-way traffic is permitted once again.
Jordan Pond and Jordan Pond House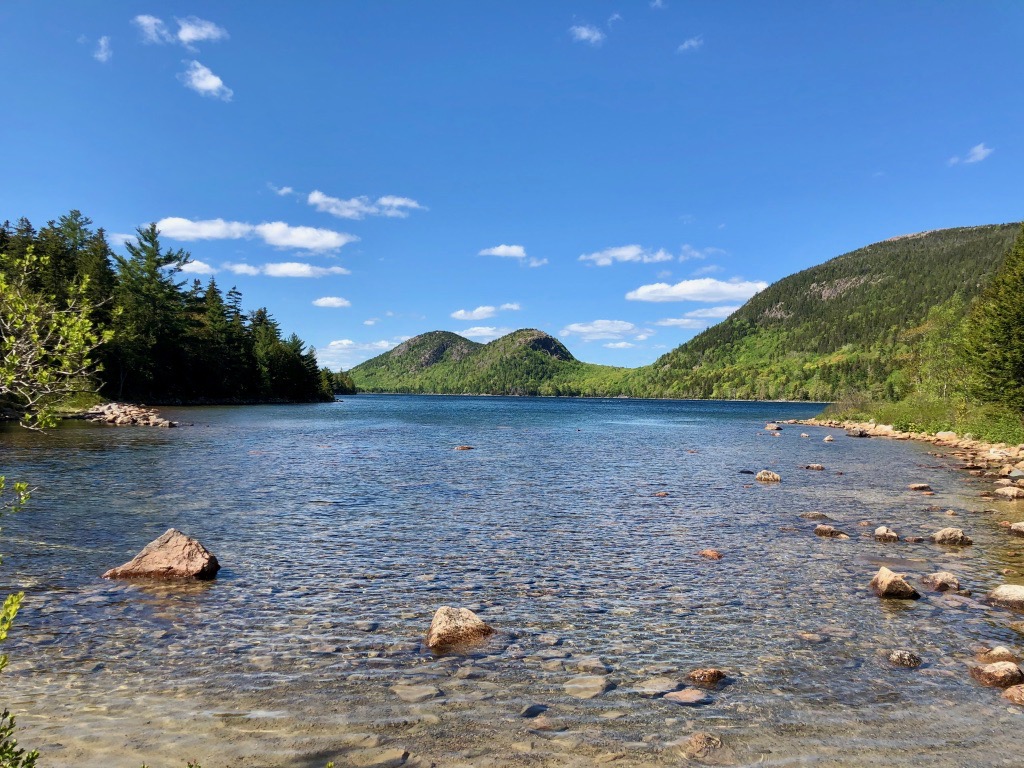 Next is one of the most photographed spots in all of Acadia, Jordan Pond. There are two parking areas here: one for the restaurant and gift shop (Jordan Pond House) and one for accessing nearby hiking trails, carriage roads, and the boat launch.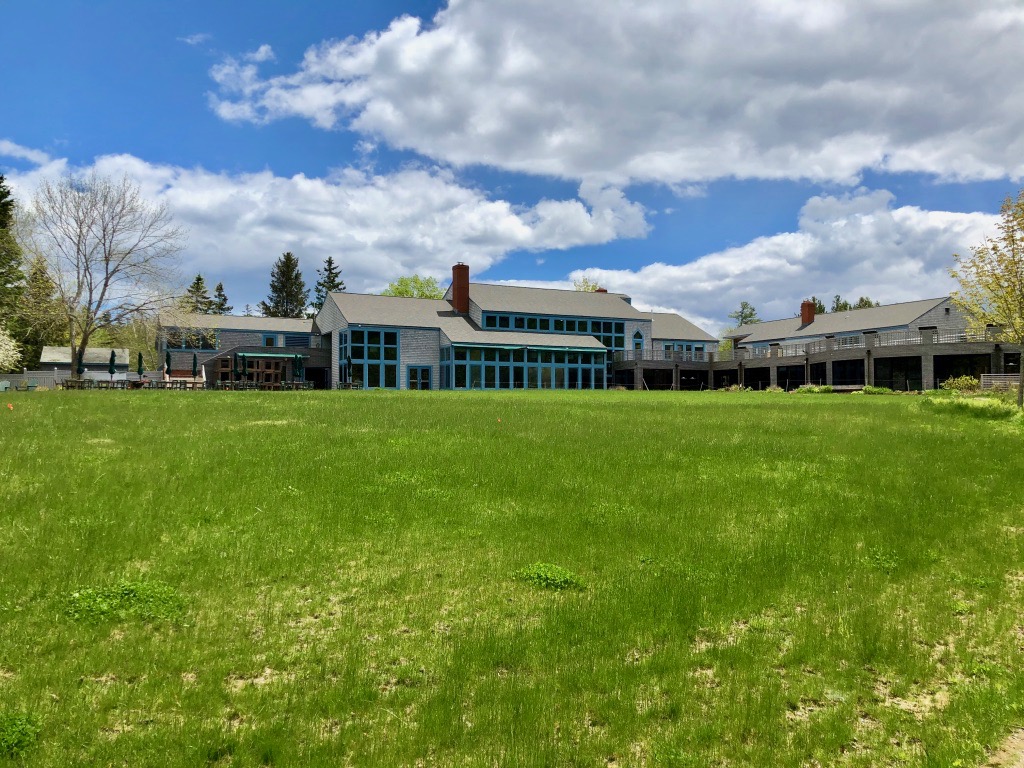 The Jordan Pond House has been serving visitors since 1896 and is most famous for its popovers and high tea. Many visitors consider stopping here for a snack on the lawn overlooking the pond as a must-do while visiting Acadia.
Though a fire burned the original Jordan Pond House in 1979, the tradition of tea and popovers continues. If you plan to take part, reservations are strongly recommended.
If you continue down the Park Loop Road, you'll come to a small parking area on the left for The Bubbles. The trail here takes you up the North and/or South Bubble that frame Jordan Pond from the Jordan Pond House lawn. You can also summit Pemetic Mountain from this parking area by crossing the Park Loop Road.
Cadillac Mountain Summit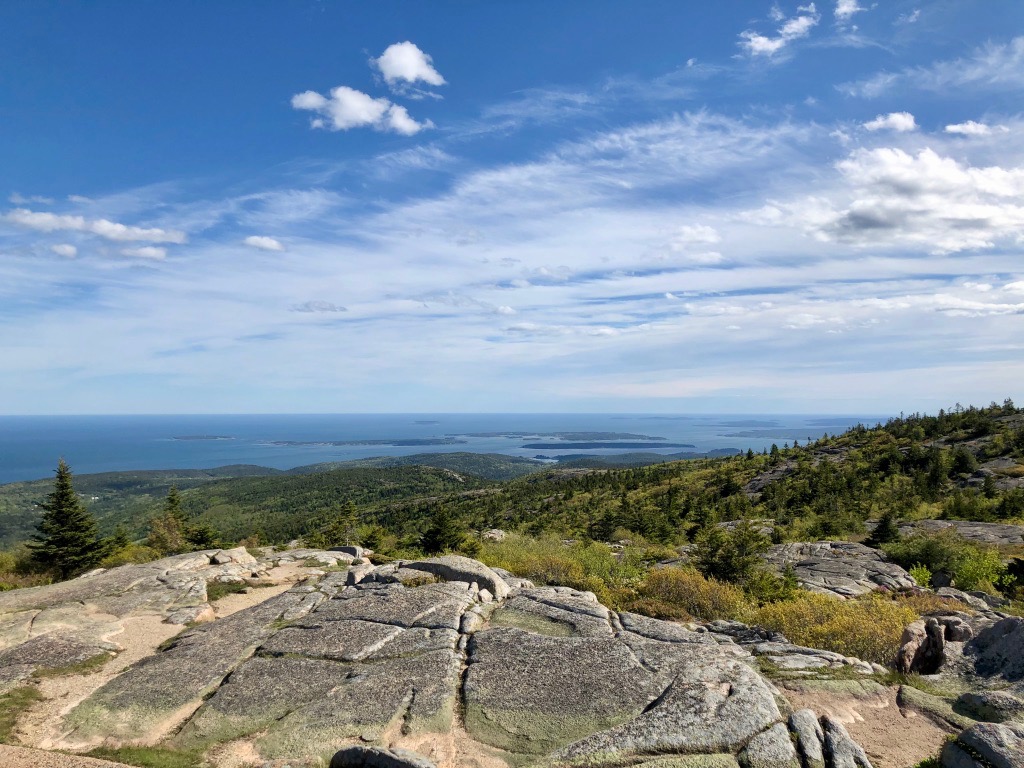 Depending on the weather the day you visit, the Cadillac Mountain summit may be your first stop. However, I'm a bit sentimental, and I prefer to save it for last. I find summiting the highest peak in Acadia at the end of my Park Loop Road tour is the best way to say goodbye to this East Coast gem.
It is also popular for sunrise, as many believe it is the first place to see the sun crest in the United States each morning. This is partially true, however, Cadillac Mountain is actually only the first place to see the sunrise from October 6 to March 7. Even if it isn't the first, it's still a beautiful place to admire the pink and orange brush strokes across the sky.
During the day, it's a wonderful place for taking in the sights. You can see most of Acadia National Park from above, including many of its lakes and islands. On a particularly clear day, you can even see Mount Katahdin, the highest peak in Maine and the end of the Appalachian Trail. The small gift shop at the summit is also a favorite for many visitors.
Reservations are required for driving Cadillac Mountain in the summer!
What to Bring on Your Park Loop Road Tour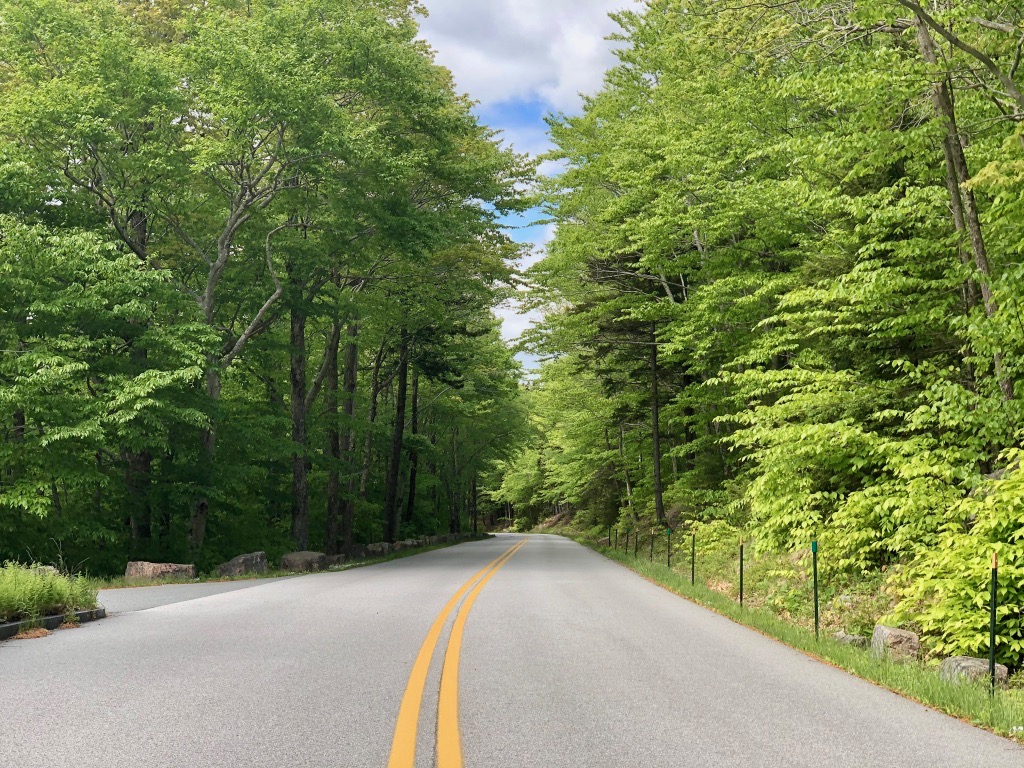 Guidebooks: The Complete Guide to Acadia, Moon Guide to Acadia, Falcon Guide to Hiking in Acadia
Maps: Waterproof hiking map, National Geographic All Trails map
Camera: Canon Rebel, Canon Powershot
Hiking Attire: Hiking boots, windbreaker, rain jacket, hiking pants, wool socks, polyester top
Beach Attire: Swimsuit, towel, flip flops, hat
General: Sunscreen, bug spray, water bottle
Pin Driving the Park Loop Road in Acadia
Driving the Park Loop Road in Acadia is a must-do for anyone visiting the area. You'll get to see some of Acadia's most iconic sights, and make unforgettable memories along the way.
If you're looking for things to do while you're here, be sure to take advantage of our local expertise! For more information on what else there is to explore during your stay at Mount Desert Island, please don't hesitate to email us or comment below.