Visiting Denali National Park can pose a lot of challenges: it's vast, there's only one road, private vehicles can only go 15 miles, you'll find very few hiking trails, and the majority of its 600,000+ visitors arrive in a period of four months.
Considering all of this, it's no wonder people have such a hard time planning their once-in-a-lifetime trip to Denali. I've had the pleasure of living in the area for three years, and this guide includes everything you need to know before visiting Denali National Park.
This post may contain affiliate links. If you make a purchase, I may earn a small commission at no additional cost to you. For more information, view my privacy policy.
Visiting Denali National Park Map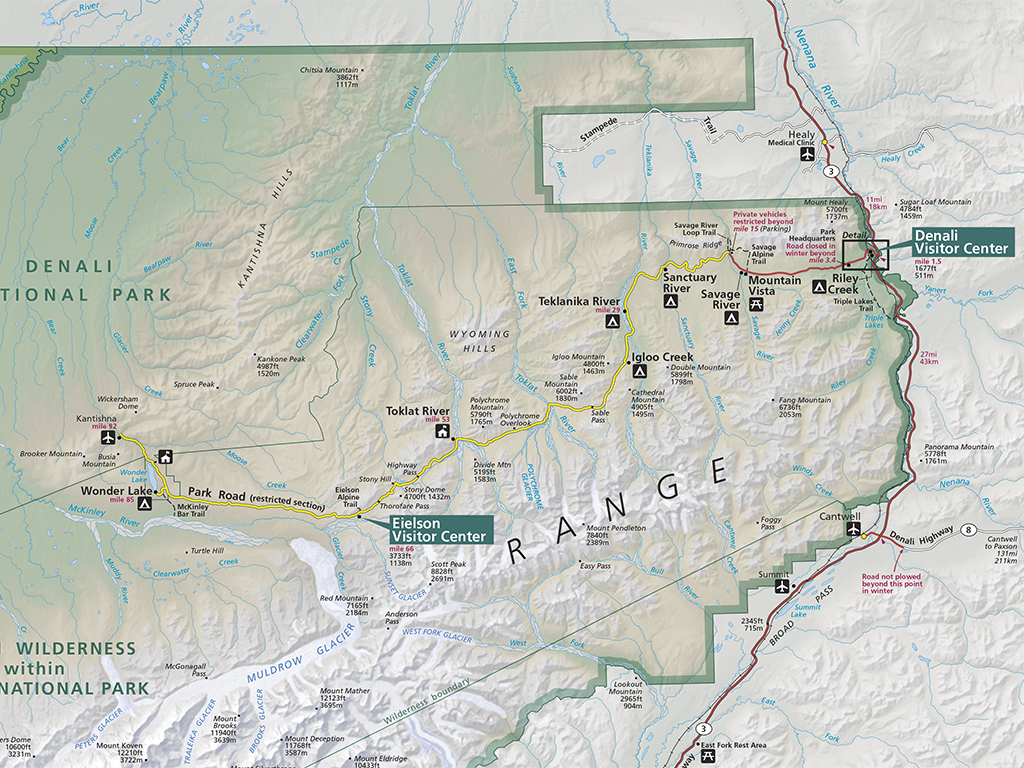 The official website for Denali has tons of maps, including an interactive trail map and a map of the backcountry units. For a general overview of the park, this map is a great resource (click the image to enlarge and download the full map).
Note: As of August 2021, Denali Park Road is partially closed due to a massive landslide. Learn more here.
Fun Facts About Denali National Park
Denali was the first national park established with a goal of protecting wildlife, focused on protecting the park's Dall sheep population from over-hunting.
When Mount McKinley National Park was created in 1917, its boundaries did not include Mt. McKinley, the park namesake. The park's name changed to Denali National Park in 1980 and its borders were expanded to its current 6 million acres (nearly tripling in size).
Park visitation has nearly doubled in the last twenty years, increasing from 364,000 to 642,000 between 2000 and 2017. Winter visitation is also increasing exponentially.
Denali is the tallest mountain in North America, towering over other peaks in the Alaska Range at 20,310 feet. The mountain's elevation was measured using more accurate technology in 2015 causing the official height to change from 20,320 feet. That height is measured from the top of the snow on Denali's south summit. Also in 2015, its name officially changed from Mt. McKinley to Denali, the name Alaskans have used for thousands of years.
There are no reptiles found in Denali National Park, and only one amphibian (the wood frog).
In 2005, researchers from the University of Alaska discovered the first dinosaur footprint found in the park. Since then, thousands of trace fossils have been found.
About 3,000 earthquakes occur within the park boundaries every year.
At 6 million acres, the park is about the size of New Hampshire.
Denali is technically a desert ecosystem, receiving only about 15 inches of precipitation per year (not including 80 inches of average snowfall).
The park operates the only sled dog kennel within the U.S. National Parks system. On average, they traverse roughly 3,000 miles each winter.
Why is Denali a National Park?
The foundation document states that:
"Denali National Park and Preserve was established as a park…
for people's enjoyment and benefit
to preserve wildlife
to preserve scenic beauty
to preserve extensive, unaltered natural ecosystems
to protect historic and archeological sites
to preserve wilderness resource values and related recreational opportunities
to maintain opportunities for scientific research in undisturbed ecosystems
to protect resources related to subsistence
to provide the opportunity for continued subsistence activities for rural residents
to protect and interpret the mountain (Denali) massif
to provide opportunities for mountaineering and wilderness recreation"
When to Visit Denali National Park
Denali National Park Weather
Weather in Denali is increasingly changing as the effects of climate change are becoming more and more apparent. While normal average highs in the summer months used to be in the 60s, now it's not unusual to see days with temperatures in the 80s and 90s.
Plus, you shouldn't be surprised if you see snow any time of year.
Furthermore, because mountains create their own weather, forecasts can be incorrect and unpredictable. When visiting Denali National Park, the weather just might be the most challenging consideration of all.
Visiting Denali National Park in Winter
If you thought planning a summer trip to Denali was difficult, try winter.
Most days, the Denali Park Road is only open three miles to Park Headquarters. If you're lucky, the sled dogs will be in the kennels to greet you, but it's more likely that they're patrolling the park. Buses do not operate in the winter. The trails remain open, but you may require snowshoes or skis to utilize them safely. Snowshoes and ice grippers are available for rent at the Murie Science and Learning Center (Denali's Winter Visitor Center) for free.
One of the main appeals of visiting Denali in winter is the aurora borealis, or northern lights, if you're lucky enough to see them.
One last consideration: due to Alaska's northern location, expect very dark, short days.
Visiting Denali National Park in Summer
Without a doubt, summer is the most popular time of year for visiting Denali National Park.
In Alaska, summer is generally considered to be May-September, and in Denali, it's often reduced to May 20-Labor Day.
In the summer, buses will take you along the 92-mile Denali Park Road for stunning vistas and opportunities to view wildlife. Or, if you have your own private vehicle, you can drive the paved portion of the road 15 miles to Savage River, weather permitting (you should expect snow any time!).
In addition to buses, backcountry hiking and camping opportunities (as well as frontcountry hiking trails and campgrounds) are plentiful this time of year. If you don't want to hike on your own, consider a guided ranger program.
Don't forget, you're in the subarctic, and days are long with darkness not making an appearance for months at a time.
Visiting Denali National Park in Spring, or Fall
Also known as the other two weeks of the year…
Spring and fall are some of my favorite seasons in Denali National Park. In spring (late May or early June), bears and other animals rise from hibernation while flowers begin to bloom and green-up works its way through the mountains.
In fall (mid-August), the tundra transforms into a bright sheet of yellow, orange, and red while bright yellow aspens and termination dust sprinkles the mountainsides.
During both seasons, you should still be prepared for any type of weather, especially wintery conditions. You can also expect limited services as park operations change with the seasons. Denali's official website is a great resource for dates.
How to Get to Denali National Park
To reach Denali National Park, you have many options: foot, air, train, or car/bus. Land excursions can also be booked as a part of cruise packages.
Once you're inside the national park, you can only drive your private vehicle 15 miles to Savage River. Beyond this point, you'll need a bus ticket, which can be purchased online, over the phone (1-800-622-7275), or at the Denali Bus Depot at the park's entrance.
There are many types of buses in Denali National Park:
Transit buses, usually green, which transport you into the park and allow you to hop on and off wherever you'd like
Camper buses, usually green, a type of transit bus reserved for overnight users with additional space for camping gear
Tour buses, usually tan, that include a fully-narrated tour from your driver
Courtesy shuttles, usually green, that provide free transportation (with your park entrance fee) around the park entrance area, to sled dog demonstrations, and to Savage River
Hotel shuttles, courtesy shuttles that transport visitors between their hotels and the Denali Visitor Center (ability varies by hotel)
Kantishna lodge buses, which provide transportation for lodge guests staying in one of the three lodges in the Kantishna mining town at the end of the road
How Much Does Denali National Park Cost?
Unlike most national parks, Denali does not have an entrance station when you arrive. Instead, you'll need to pay your entrance fee at the Denali Visitor Center (mid-May to mid-September) or Winter Visitor Center/Murie Science and Learning Center (mid-September to mid-May).
Entrance fees are sold based on the number of adult (16 years and older) individuals in your party, and each adult costs $15. This fee is valid for 7 days. A great deal for large parties and Alaska residents is the Denali Annual Pass, valid for 12 months from the time of purchase, for $45.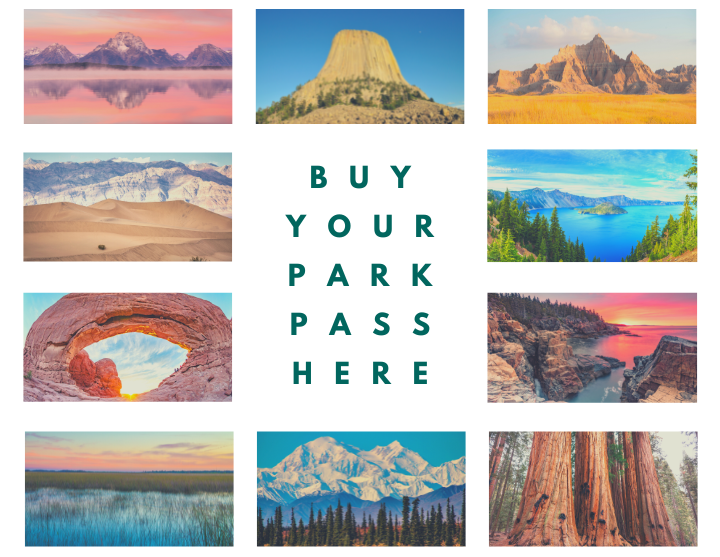 America the Beautiful Passes
While Denali National Park is the only national park in Alaska that charges an entrance fee, if you're visiting other national parks in the United States, the smartest thing to do is purchase an America the Beautiful Pass.
Annual passes cost $80 and will admit everyone in the vehicle at most national parks around the country. Some parks, like Denali, admit the passholder and three additional adults.
If you're currently serving in the United States military, have volunteered for a national park, are in fourth grade, or have a permanent disability, you may be eligible for one of the free passes issued by the National Park Service.
Lastly, there is an annual pass for seniors 62 and older for $20. Seniors are also able to purchase a lifetime pass for $80.
How Much Time Should I Spend Visiting Denali National Park?
One Day in Denali National Park
Listen to me: one day in Denali National Park is not enough time. I cannot stress this point enough – spend multiple days in this park!
If you only have one day, you have two choices: to spend that entire day sitting on a bus or seeing a very small amount of the park by private car and on foot. If you plan it right (make all your reservations in advance), you could potentially do all three of these in one (very exhausting) day thanks to unlimited daylight.
Multiple Days in Denali National Park
Ideally, you'll have at least three days to play around and experience all the wonderful things to do while visiting Denali National Park.
On your first day, drive the road to Savage River, visit the park's sled dogs, and hike some of the trails.
On the day with the best weather (ideally), reserve a bus trip at least as far as the Eielson Visitor Center (66 miles, 4 hours one-way).
On your third day, hike more of the trails and attend some ranger programs to learn more about Denali's incredible ecosystem. You could also book a Discovery Hike with a park ranger on one of your free full days in the park.
Places to Stay Near Denali National Park
Most of the lodges around the park are in the town of Healy, about twenty minutes north. If you're visiting Denali National Park in the winter, Healy will be the only place with lodging options.
In the summer, the canyon/glitter gulch area just outside of Denali opens and there are even more lodging options. Furthermore, Airbnb is very popular in the area. Reserve using my referral code to receive $55 off your first stay!
Search for places to stay in Healy or Denali's Canyon on Booking.com.
Denali National Park Camping
Denali National Park offers two types of camping: backcountry wilderness and designated campgrounds.
Campgrounds include Riley Creek, the only one open in the winter (free of charge on a first-come, first-served basis) and the only one with laundry and showers (summer only). RVs can camp here as well as at Savage River and Teklanika River.
Insider tip: if you reserve at least 3 nights at Teklanika, you can drive yourself there, too!
The other three campgrounds (Sanctuary River, Igloo Creek, and Wonder Lake) can only be accessed by bus. You'll need to book the Camper Bus, a special bus with more room for camping gear.
Reservations for campgrounds can be made beginning December 1 for the following summer season. Reservations are accepted online, over the phone (1-800-662-7275), or at the Riley Creek Mercantile at the park's entrance.
If you're interested in backcountry camping, you'll need to obtain a permit from a park ranger in the Denali Visitor Center (or Winter Visitor Center in the winter season).
The orientation process, which includes a safety briefing and video, takes about one hour, so plan ahead and leave plenty of time in your schedule. To speed up the permitting process, read about Denali's backcountry units ahead of time and have a couple of options selected for your itinerary before you arrive.
Denali National Park Hikes
Even with its massive 6 million acres, there are currently only 35 miles of maintained hiking trails in Denali National Park. Below are some of my favorites. For more, check out my post on the best hikes in Denali where I rank all 20 trails within the park.
Bear spray is highly recommended on each of these trails.
Savage Alpine Trail
Savage Alpine is easily my favorite trail in Denali National Park. It's not a loop, so you'll have to plan accordingly based on buses or doubling your hiking distance/time. On a clear day, you can expect commanding views of the Alaska Range and Denali. You might even be lucky enough to see some wildlife, especially Arctic Ground Squirrels.
Difficulty: Strenuous
Start: Mountain Vista or Savage River
Distance (one-way): 4 miles / 6.4 km
Estimated Hiking Time: 2 hours
Triple Lakes Trail
Another beautiful trail with some logistical planning required, Triple Lakes offers wonderful views of the park. It's best in the fall when the aspens turn yellow. If you want to see the three lakes without hiking the full trail, begin at the south end near the Denali Park Village.
Difficulty: Strenuous
Start: Denali Visitor Center (via McKinley Station) or Denali Park Village
Distance (one-way): 9 miles / 14.4 km
Estimated Hiking Time: 4 hours
Mount Healy Overlook Trail
For a more difficult climb than Savage Alpine, yet a similar view, check out the Mount Healy Overlook Trail. At the top, you could continue traversing Mount Healy away from the maintained trail for even more adventures.
Difficulty: Strenuous
Start: Denali Visitor Center (via Taiga)
Distance (roundtrip): 5 miles / 8 km
Estimated Hiking Time: 3 hours
Horseshoe Lake Trail
This trail, relatively easy with the exception of one 200-foot hill, leads you to a stunning horseshoe-shaped lake created by a large beaver dam. On your hike, you might be lucky enough to see beavers or moose.
Difficulty: Moderate
Start: Denali Visitor Center (via Taiga or Bike Path) or Denali Park Road Railroad Crossing
Distance (roundtrip): 2.5 miles / 4 km
Estimated Hiking Time: 2 hours
Savage River Loop
An easy, mostly flat stroll down one side of the Savage River before crossing a footbridge and heading back to the road on the other side. Many hikers also choose to go off of the maintained trail near the bridge to continue down the canyon created by the river.
Difficulty: Easy
Start: Savage River (east or west parking area)
Distance (roundtrip): 2 miles / 3.2 km
Estimated Hiking Time: 1 hour
Denali National Park Scenic Drive
There's only one road in Denali, the Denali Park Road, so it's pretty difficult to get lost! Take your private vehicle to Savage River or ride a bus the full 92 miles to Kantishna. If you're trying to decide how far to ride the bus, I recommend going at least as far as the Eielson Visitor Center (8 hours roundtrip).
More Things to Do While Visiting Denali National Park
Make sure you see Denali's sled dogs before you leave! If you can, try and visit during a sled dog demonstration (a park tradition since 1939) to see them in action and listen to a park ranger describe the purpose of working sled dogs (much different from Iditarod racing dogs).
Check out the park's calendar for a list of ranger programs. If spots are available, sign-up for a Discovery Hike to go off-trail with a park ranger.
What to Pack for Denali National Park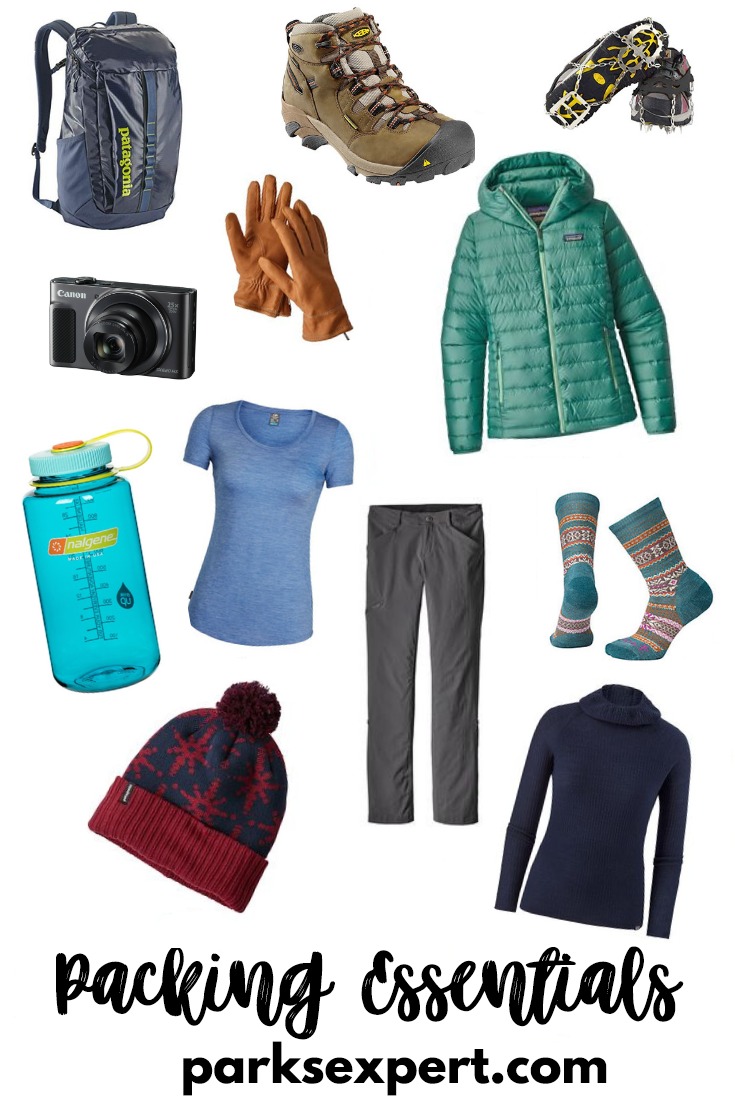 For more information on what to pack, check out my posts on packing for a trip to Alaska and my favorite outdoor gear.
A Re-usable

Water Bottle

and filter:

Literally, the most important thing to have on any trip.

Moisture-wicking Layers: You'll want

short-

and

long-sleeve

shirts to wear underneath your jacket. In the summer, you may also want a

tank top

. Choose polyester over cotton.
Jacket: I always have a

packable down

with me on trips. I also love

this new jacket

I got a few months ago, as it's very light yet warm.

Synthetic

is a good alternative to down if you're worried about rain or snow.
Hiking Pants or Shorts: My favorite hiking pants can be found

here

. As a taller woman, I also love

Columbia's pants

because they offer long sizes. With the exponentially changing climate, you may want some pants that can zip-off into shorts.
Hat: In the sub-arctic, you'll probably want both a

winter hat

and a

summer hat

.
Gloves or Mittens:

Gloves

are critical, even when visiting Denali National Park in the summer.

Wool Socks:

Smartwool

is my favorite brand for wool socks. Make sure to get wool so your feet stay warm and dry.

Camera: I had my small, but trustworthy,

Canon Powershot SX620

and a

GoPro

with me on my most recent trip.
Boots: I love my

Keens

, and will never choose another brand for my everyday boots. In winter, I choose a much warmer pair of

Solomon boots

.

Backpack

:

The pack you see me hauling in the backcountry is my favorite Amber 70 from Gregory.
Map and Compass: The Trails Illustrated map provides a great overview, but it's important to have better maps with you in the wilderness. Visit the Denali Visitor Center, Winter Visitor Center, or the USGS store on the University of Alaska-Fairbanks campus to purchase USGS quadrangle maps.
Gaiters: Keep that water and mud out of your shoes as much as possible!
Where to Stamp Your National Parks Passport Book
Don't have a national parks passport book? Purchase one here and start collecting your stamps! Or, buy your own notebook or stamp some postcards – the stamps are free for you to use on whatever you please.
NOTE: Do not stamp your country-issued passport with these! This could render them invalidated.
Availability varies based on time of year.
Denali Visitor Center/Winter Visitor Center
Denali Sled Dog Kennels
Denali Bus Depot
Eielson Visitor Center
Kantishna Experience Tour (Fannie Quigley's Cabin)
Talkeetna Ranger Station
Toklat Tent
Wonder Lake Ranger Station
Pin The Parks Expert Guide to Visiting Denali National Park