Delicate Arch Trail is one of my favorite trails in America's national parks and one of the best hikes in Arches National Park.
My favorite aspect of the hike to Delicate Arch is you don't see it until the very end of the trip. It keeps you wondering and leaves you absolutely shocked when you round the final corner and see it for the first time.
I've been wanting to write about the Delicate Arch hike ever since my cross-country road trip in 2014. When my friends and I decided to go to Arches National Park on our Southwest Roadtrip, I couldn't wait to hike to Delicate Arch again.
If you have to choose one of the amazing hikes in Arches National Park, make it this one to one of Utah's most recognizable landmarks.
Here's everything you should know to be prepared to hike the Delicate Arch Trail.
This post may contain affiliate links. If you make a purchase, I may earn a small commission at no additional cost to you. For more information, view my privacy policy.
Delicate Arch Trail Overview
Distance: 3 miles (4.8 km) round-trip
Elevation Change: 480 feet (146 m)
Time: Allow 2-3 hours to complete this hike.
Difficulty: Moderately Strenuous
Start/end: Wolfe Ranch parking area
Parking for Delicate Arch
The Delicate Arch trailhead is located at Wolfe Ranch. In peak season (March to October), this can fill up quickly. If the parking area is full, you'll need to park at the Delicate Arch viewpoint and hike back one mile on the Park Road back to the trailhead. This increases your hike distance to 5 miles roundtrip.
Delicate Arch Trail Description
After leaving the parking lot, the trail ascends on steep slick rock. Here, you'll look for cairns and trail signs to guide the way. Then, follow the Delicate Arch Trail along a sandstone fin until you reach Delicate Arch.
PRO TIP: There is absolutely no shade on this trail. It is extremely important to carry at least 2 liters of water per person. It doesn't matter if you're hiking in the middle of the day in the summer or early morning in winter. The sun will be out and you will need to ensure you are hydrated.
No permit is required for hiking to Delicate Arch. It is illegal to climb Delicate Arch and any named arch in Arches National Park. No pets are allowed on the Delicate Arch Trail.
Delicate Arch Hike Map
How Was Delicate Arch Formed?
Delicate Arch, like many of the natural formations in Arches National Park, is made of sandstone. This type of rock is easily eroded by wind and water. The rock used to be a sandstone fin, a tall and thin rock wall. You'll see a great example of this as you hike the Delicate Arch Trail.
Eventually, weathering and erosion caused the middle of the arch to disappear. This usually happens when water seeps through cracks in the rock and begins to dissolve the sandstone. This arch is particularly famous for its shape and because it's standing alone.
Facts about Delicate Arch
Delicate Arch is 52 feet (16 meters) tall.
Many think Delicate Arch's shape is similar to a pair of cowboy trousers. For this reason, it has many nicknames: "The Chaps", "Bloomers Arch", and "Old Maids Bloomers" are just a few of the funny monikers given to the arch.
This arch is one of Utah's most famous landmarks and appears on its license plate, welcome sign, and commemorative stamp.
In 1996, when the Olympics were held in Salt Lake City, the Olympic Torch passed through Delicate Arch.
When to Hike to Delicate Arch
Since there is no shade on the hike to Delicate Arch, I strongly recommend hiking early in the morning or later in the evening. Avoid hiking in the middle of the day when the sun is at its strongest.
In terms of weather, morning is the coolest time for hiking Delicate Arch.
Furthermore, the trail to Delicate Arch is far less crowded earlier in the morning. Both times I've hiked this trail, I've started by 8 a.m. and had the arch to myself for 15-20 minutes in between groups of hikers.
It's said that from mid-afternoon to sunset is the best lighting if you're interested in photography. Some also hike out at night to view the stars. For this, definitely bring layers and a headlamp/flashlight.
Do You Have to Hike the Delicate Arch Trail to See Delicate Arch?
Not at all! If you want to see the most famous arch in Arches National Park, there are two viewpoints. You'll be much farther away, but you will be able to see the arch and take photos.
Continue on the Park Road beyond Wolfe Ranch where the Delicate Arch trailhead begins. At the end of the road, there's a parking lot called Delicate Arch Viewpoint. Here, you'll find two viewing areas.
The first (Lower Delicate Arch Viewpoint) is a very short, flat walk from the parking lot. The next is a moderately-strenuous climb to the Upper Delicate Arch Viewpoint. The distance is about 1/2 mile. You'll be separated from Delicate Arch by a small canyon.
If you are physically capable of hiking the Delicate Arch Trail, I strongly recommend it. The view from these viewpoints makes the arch seem small. Especially if you're looking into the Upper Delicate Arch Viewpoint, I'd extend the strenuous walking and complete the full hike. You'll only truly understand the significance of Delicate Arch if you see it up close.
Even if you only have one day in Arches, add this trail to your itinerary.
Delicate Arch Trail Map
How to Get to the Delicate Arch Trailhead
First, you'll need to be in Moab, Utah. The nearest major airports are located in Salt Lake City, Las Vegas, and Denver. From there, rent a car to reach Arches National Park, home to Delicate Arch.
You'll begin your hike at Wolfe Ranch (so long as the parking lot isn't full). Arrive as early as possible to guarantee a parking space. The Delicate Arch trailhead is located near the bathrooms.
If the parking lot at Wolfe Ranch is full, you'll need to park at the Viewpoint Parking area one mile up the road. This will add two miles to your hike, totaling five miles roundtrip.
The Hike to Delicate Arch
Another outstanding element of the Delicate Arch Trail is everything you get to see along the way.
You begin at Wolfe Ranch, a one-room cabin built by John Wesley Wolfe in 1898. The Wolfe family lived here until 1908 when they moved to Moab so the children could attend school.
Just beyond here is a short side trail to petroglyphs left behind by Native Americans. These tribes used the blue-green colored Mancos Shale rock nearby for paint during ceremonies while the chert (hard white rock) was used for stone tools.
Next, you'll cross a bridge over Salt Wash before you begin your ascent.
You'll start by walking up a few switchbacks. They aren't too steep.
These lead you to the slick rock, the most difficult part of the hike.
In winter, this can be extremely icy, so use caution. In summer, the sun beats down on hikers the hardest here. Use cairns and trail markers to find your way.
Beyond the slick rock, you'll continue following the trail along a sandstone fin. There are drop-offs to the side, but they aren't too steep.
You'll continue on this fin, ascending very gradually until you come face-to-face with Delicate Arch. The video below was taken at the end of the Delicate Arch Trail as we approached the arch.
If you're lucky, you'll arrive and have Delicate Arch to yourself. Or, perhaps there will only be one group in front of you and you can take turns taking photos.
We arrived with no one around and were followed by a very friendly couple from Texas. They were extremely concerned about our lack of gloves, but when we mentioned that we live in Alaska they came around and accepted it.
When I hiked the Delicate Arch Trail in 2014, Allison and I arrived with only one other person at the arch. It was another twenty minutes or so before another group showed up.
Both times, we passed a lot of hikers on the trail on the way back and returned to a parking lot that was nearly full. I cannot stress enough how important it is to begin your hike to Delicate Arch as early as possible!
The trail back to the parking lot is entirely downhill. Be sure to use caution on the potentially slippery rock.
When passing others on the sandstone fin, step to the side against the rock wall (not the side with drop-offs) and let each other pass.
Continue Reading About Great Hikes in National Parks
Things to Know Before You Visit Arches National Park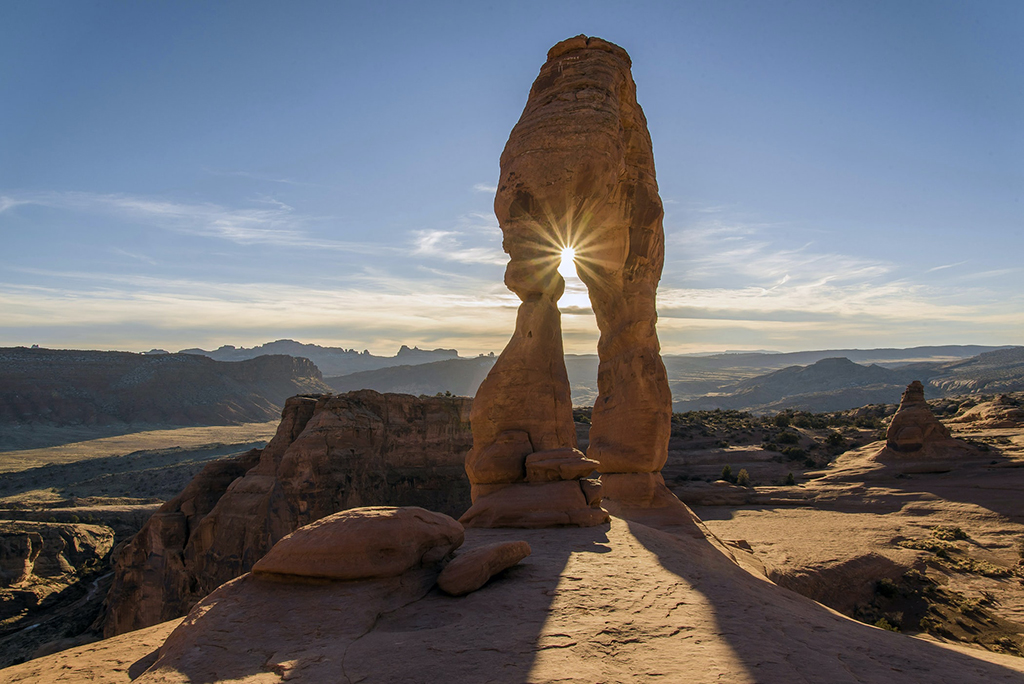 Park Hours
Arches National Park is open 24 hours a day. In fact, it's one of the best national parks for stargazing!
The Arches National Park Visitor Center, however, is not open 24/7. If you're hoping for a national parks passport stamp or a junior ranger activity book, be sure to plan ahead and visit when the center is open. It's located at the entrance to the park, so you can't miss it.
For the most up-to-date hours, check the official website. Hours change seasonally.
Reservation System
In an important 2022 update, Arches National Park now requires timed entry tickets. This is enforced between 6 a.m. and 5 p.m. Outside these hours, anyone can enter the park.
While the tickets are free, there is a $2 processing fee charged by Recreation.gov. You can book as early as three months in advance. A limited number of tickets are released at 6 p.m. each night as well, valid for the following day only.
If you have reservations within the park, such as for camping in Devils Garden or the ranger-guided Fiery Furnace tour, you will not need a timed entry ticket. Tribal members are also excluded and do not need reservations.
The pilot timed entry system is in effect from April 3 to October 3, 2022. Learn more and secure your reservation here.
Entrance Fee
There is a fee to enter Arches National Park. These tickets are valid for 7 days. Prices are $30 per vehicle, $25 per motorcycle, and $15 per pedestrian (on foot or by bicycle).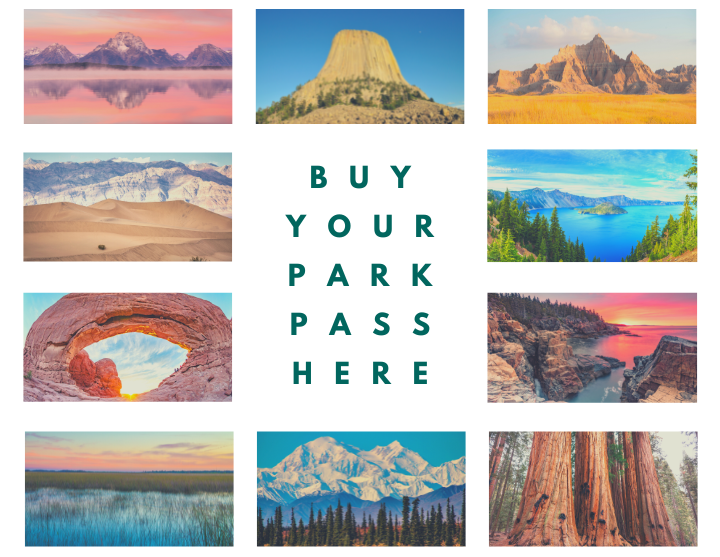 In order to save money, I would recommend purchasing a national parks pass. These cost $80 and are valid for a full calendar year at all public lands in the United States. After you visit 3 national parks, it'll have paid for itself. It also makes a great gift for national park enthusiasts!
What to Pack to Hike the Delicate Arch Trail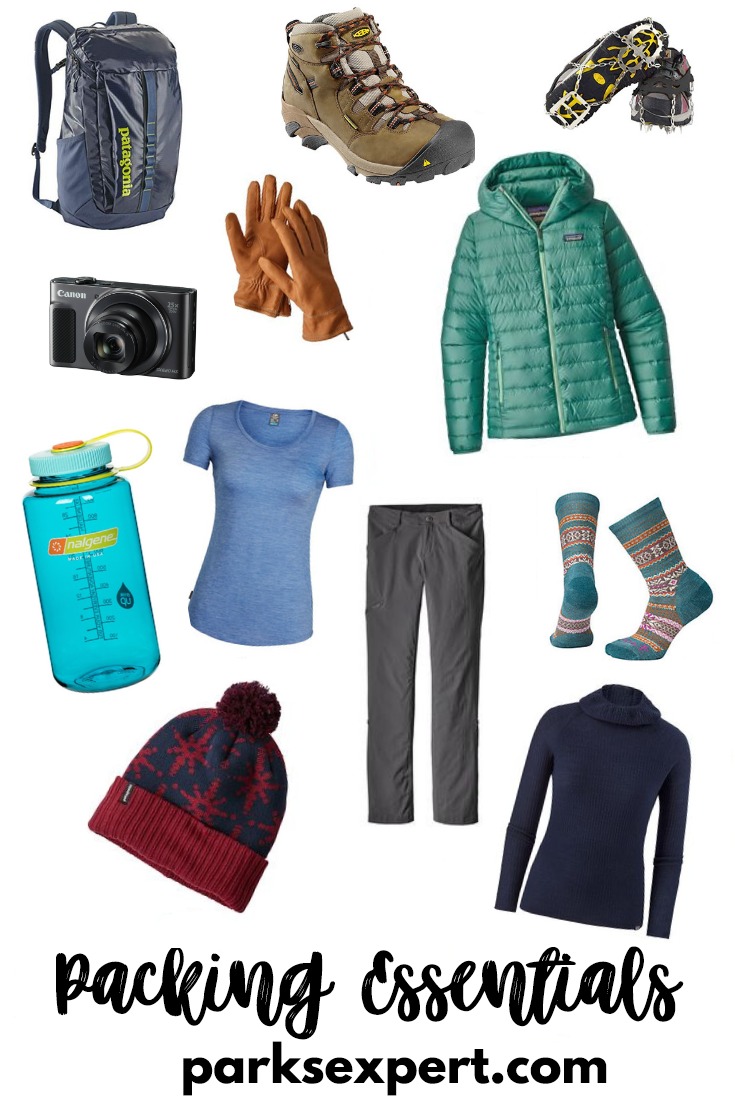 Packing for a hike in the desert can be tricky. Depending on the time of year, temperatures can range from over 100 degrees Fahrenheit during the day to 50 degrees once the sun goes down. If you're visiting in the winter, it may even snow.
Here's a list of things you may need, with some items varying based on the season you decide to visit.
For more recommendations, read my posts on backpacking and hiking gear and the best daypacks for women.
Pin Our Delicate Arch Trail Hiking Guide
Have you done the hike to Delicate Arch? Did you love it as much as I did?