Having been to each of Utah's mighty five national parks, I can say from experience that it's difficult to choose the best one. I also have a confession to make: Arches National Park is my favorite. I don't know if it's the arches themselves, the otherworldly landscape altogether, or the overall uniqueness that makes it stick out for me. Nonetheless, visiting Arches National Park has been an absolute pleasure both times I was lucky enough to go. This park deserves a few days of your time, and this guide will help you make the most of your adventure.
This post was updated on March 31, 2020. This page may contain affiliate links.
Visiting Arches National Park Map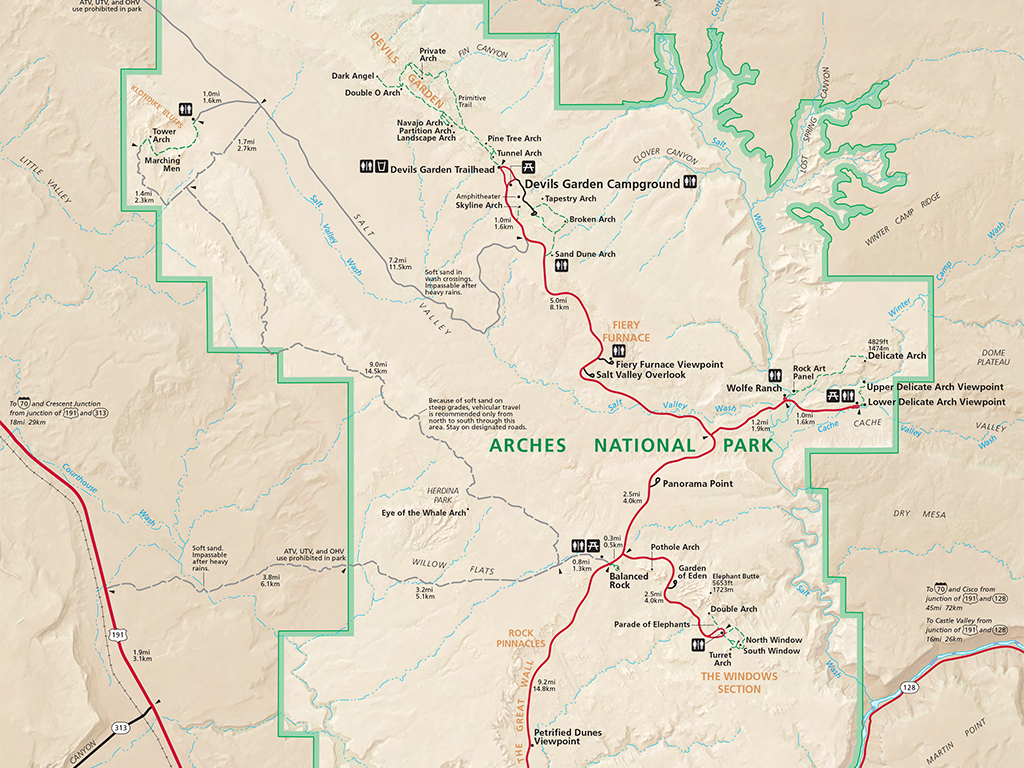 Click the image above to enlarge and download the full Arches National Park map. The map includes the park road, hiking areas, Fiery Furnace, and where to find some of the most famous arches. For more maps, including an interactive map, visit the official website of Arches National Park.
Fun Facts About Arches National Park
Arches National Park protects the largest concentration of sandstone arches on Earth with over natural 2,000 formations.
In addition to Arches, you can find various unique rock formations here, including Balanced Rock and the Courthouse Towers.
Annually, Arches National Park receives less than 10 inches of rain.
In 2018, the park welcomed more than 1.5 million visitors.
Delicate Arch, the most recognized in the park, appears on Utah's license plate and welcome signs.
Why is Arches a National Park?
The foundation document behind Arches National Park states, "The purpose of Arches National Park is to protect extraordinary examples of geologic features including arches, natural bridges, windows, spires, balanced rocks, as well as other features of geologic, historic, and scientific interest, and to provide opportunities to experience these resources and their associated values in their majestic natural settings."
Best Time to Visit Arches National Park
Arches National Park Weather
If you've read my other travel guides on Utah's national parks, then you know what I'm about to say. Be prepared for extreme temperatures in the desert. While the elevation isn't as high in Arches as it is in parks like Bryce Canyon or Capitol Reef, temperatures can cool down quickly as soon as the sun goes down. Make sure you're prepared by packing lots of layers (keep reading for a full packing list), drinking a ton of water, and applying sunscreen (even in winter!).
Visiting Arches National Park in Winter
With Arches National Park's popularity, you can expect visitors year-round. That being said, winter is certainly less crowded than other seasons.
You may find some snow, as pictured in the photo above. The trails can also become icy, so traction devices for your shoes are highly recommended. Wear layers so you can adjust your clothing quickly in case of unexpected changes in temperature. Check road conditions at the Arches National Park Visitor Center after any snowfall.
Visiting Arches National Park in Summer
Can you feel the heat? At Arches National Park, temperatures frequently rise above 100 degrees Fahrenheit, making water vital. Furthermore, violent summer storms can cause flash floods. Be sure to prepare for the heat by staying hydrated and applying sunscreen. Be aware that roads may close following rain.
Visiting Arches National Park in Spring or Fall
The busiest times for visiting Arches National Park are April, May, September, and October when the "shoulder season" brings milder temperatures to the Arches area. Because it's one of the most popular times to visit, and you should be prepared for crowds. You're not the only one trying to enjoy the more temperate weather! Again, be sure to drink plenty of water while visiting Arches National Park.
Getting There and Getting Around
There aren't any shuttles running here like you'll find in Zion National Park. The only buses in Arches National Park are commercially run and do not provide free transportation to all visitors.
The closest major airports to Arches National Park are in Las Vegas, Salt Lake City, and Denver. I recommend using Skyscanner for purchasing the least expensive tickets and getting the best deals. From there, you can rent a car or join a tour. It's very close to Moab and Canyonlands National Park, and both are good bases for your trip.
Arches National Park Hours
Technically speaking, Arches National Park in Utah never closes. The park itself is open 24/7. However, visitor centers do close. Check the official website for the most updated hours of operation. March through October is the busiest time of year.
How Much Does Arches National Park Cost?
The Arches National Park fee is $30 per vehicle, $25 per motorcycle, or $15 per person (with no car). There is also an annual pass for the national parks in Southeast Utah, including Arches and Canyonlands National Parks as well as Natural Bridges and Hovenweep National Monuments. This pass costs $55 and admits the entire vehicle or four individuals (including the passholder).
America the Beautiful Passes
If you're visiting other national parks in the area, the smartest thing to do is purchase an America the Beautiful Pass. Annual passes cost $80 and will admit everyone in the vehicle at most national parks around the country. If you're currently serving in the United States military, have volunteered for a national park, are in fourth grade, or have a permanent disability, you may be eligible for one of the free passes issued by the National Park Service. Lastly, there is an annual pass for seniors 62 and older for $20. Seniors are also able to purchase a lifetime pass for $80.
Read More About the National Parks in Utah
How Much Time in Arches National Park Do I Need?
One Day in Arches National Park
With only one day in Arches National Park, you can see a lot, but not all. Narrow down the arches you want to see. If you want to see as many as possible, choose shorter hikes. Drive each portion of the park's roads and stop at the pullouts for amazing views. Do the short hike around Balanced Rock and walk around The Windows. If you have time, plan for a hike to Delicate Arch, the park's most famous.
Multiple Days in Arches National Park
If you have a few days to spend in Arches National Park, you'll be able to see more of what the park has to offer. Most visitors only come for one or two days and don't have the chance to experience some of the park's best features. With more time, consider a hike to Double O Arch or a ranger-led trip into the Fiery Furnace.
Places to Stay Near Arches National Park
If you have the chance to spend a few nights in the area, you have many options for where to stay near Arches National Park. You can use the campground in the park as your base (more on that next), or find lodging in nearby Moab. On my cross-country road trip in 2014, we stayed at a cabin in Moab's KOA campground and were very pleased. In 2019, we opted for a wonderful Airbnb within walking distance of a variety of restaurants. The privacy of this beautifully decorated space made it one of the best places we stayed in the Southwest. Other places to stay in Moab include Sorrell River Ranch Resort, Moab Springs Ranch, and the Red Cliffs Lodge.
Arches National Park Camping
Arches National Park is home to one campground, Devils Garden. There are 51 sites located there, 18 miles from the park entrance. Reservations are accepted up to 6 months in advance for stays from March 1 to October 31. The campground is open year-round and first-come, first-served from November 1 to February 28/29. There is drinking water, flushing toilets, and picnic tables available (no hookups).
Backcountry camping is another great way to see Arches National Park. The terrain is primitive with very few marked trails beyond those accessible from parking areas. There are three designated camping areas in the Courthouse Wash and one off the primitive trail in Devils Garden. Furthermore, there are very limited water sources and you should plan on carrying all of your water with you for your trip. Permits are required and cost $7 per person. For more about backpacking in Arches National Park, visit this webpage.
What to Pack for Arches National Park
Packing for a trip to the desert can be tricky. Depending on the time of year, temperatures can range from over 100 degrees Fahrenheit during the day to 50 degrees once the sun goes down. If you're visiting in the winter, it may even snow. Here's a list of things you may need, with some items varying based on the season you decide to visit. For more ideas on what to pack for Arches, check out my post on the best backpacking and hiking gear.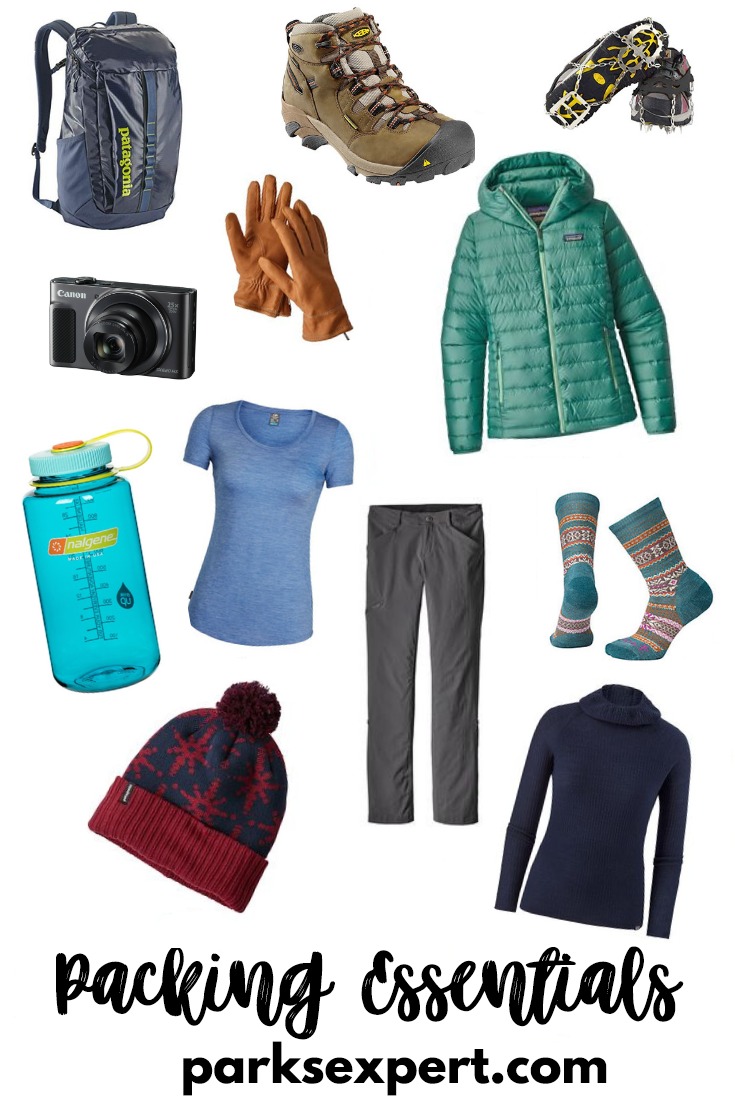 Arches National Park Hikes
You can find a wide variety of hiking trails in Arches National Park to accommodate every visitor. One of the great things about hiking in Arches is you can choose an area and be surrounded by incredible rock formations and some arches everywhere you look, such as The Windows or Devils Garden. Below are some of my favorite trails. Remember to bring lots of water!
A complete list of trails in Arches National Park, Utah can be found here.
The Windows
The Windows refers to a section of Arches National Park with many easily accessible arches as well as the two arches pictured above, North Window and South Window. From this trail, you can see the North and South Windows as well as Turret Arch. It's a gravel trail with minimal incline. You can return to your vehicle the way you came or make the trip slightly longer by following another trail from the South Window viewpoint.
Difficulty: Easy
Start: Parking area at the end of the road to The Windows Section
Distance (roundtrip): 1 mile / 1.6 km
Estimated Hiking Time: 45 minutes
Landscape Arch
You can reach Landscape Arch via a relatively flat, compact trail. Landscape Arch is one of the largest spanning over 100 yards in length. The Devils Garden Trail becomes more difficult beyond Landscape Arch.
Difficulty: Easy
Start: Devils Garden Trailhead
Distance (roundtrip): 1.6 miles / 2.6 km
Estimated Hiking Time: 1 hour
Balanced Rock
Arches National Park has more than arches. Balanced Rock is another one of the park's most recognized formations. The rock is precariously perched on a pinnacle. It's the size of three school buses! Part of this trail is paved. It's a must-see for anyone visiting Arches National Park.
Difficulty: Easy
Start: Balanced Rock parking area
Distance (roundtrip): 0.3 miles / 0.5 km
Estimated Hiking Time: 20 minutes
Park Avenue Trail
This popular trail takes you on a steep descent into a gorgeous canyon. You can follow this trail all the way to the Courthouse Towers. This is a one-way trail, so you'll return the same way you came or have someone pick you up at the end of your hike.
Difficulty: Moderate
Start: Park Avenue Trailhead/Courthouse Towers Viewpoint
Distance (roundtrip): 2 miles / 3.2 km
Estimated Hiking Time: 1.5 hours
Delicate Arch
My favorite trail in the park is the Delicate Arch Trail. My favorite aspect of the Delicate Arch Trail is you don't see the arch itself until you're standing in front of it. The most difficult portion of the trail is a hike up the slick rock. There is no shade on this trail; make sure to protect yourself from the sun and heat, and drink a lot of water.
If you're not up for the hike, there's also a Delicate Arch viewpoint area (with upper and lower viewpoints) at the end of the same road to Wolfe Ranch.
Difficulty: Strenuous
Start: Wolfe Ranch
Distance (roundtrip): 3 miles / 4.8 km
Estimated Hiking Time: 2.5 hours
Double O Arch
Not to be confused with Double Arch near The Windows, Double O Arch is reached via a strenuous, primitive trail. We did a portion of this trail on our way to Navajo and Partition Arches and had difficulty finding trail signs and rock cairns. The rock formation known as the Dark Angel is only 0.5 miles farther up the trail.
Difficulty: Strenuous
Start: Devils Garden Trailhead
Distance (roundtrip): 4.5 miles / 6.8 km
Estimated Hiking Time: 2.5 hours
Visiting Arches National Park's Best Arches
In addition to the outstanding Delicate Arch, Double O Arch, Landscape Arch, and The North and South Windows above, here are some other iconic arches in Arches National Park and how to reach them.
Navajo Arch
Navajo Arch is located on a short side-trail from the primitive trail to Double O Arch in Devils Garden.
Turret Arch
Turret Arch is located in The Windows section. While visiting Arches National Park, The Windows is one of the most popular areas due to the high concentration of arches. Try to get a photo of Turret Arch framed by the North Window.
Partition Arch
Partition Arch is not far from Navajo Arch. It is also located on a side trail from the primitive hike to Double O Arch.
Double Arch
You can see the popular Double Arch in The Windows section of Arches National Park.
More Things to Do in Arches National Park, Utah
There are so many things to do when visiting Arches National Park! From horseback riding to stargazing, this park offers activities for all ages. Activities include those listed below. More detailed information on each can be found on the official website.
Backpacking
Biking
Camping
Scenic Drives
Horseback Riding
Stargazing
Hiking
Canyoneering
Photography
Rock Climbing
Attend a Ranger Program
Park Rangers in Arches National Park offer ranger programs every day from spring to fall. Check the calendar for the most up to date list of program offerings.
One of the most popular ranger-led programs at Arches is a hike in the Fiery Furnace, pictured above. These hikes are very strenuous as you walk through a maze of rocks and learn about the unique landscape and rock formations at Arches National Park. The hike is very physically demanding and requires you to be in excellent shape. Furthermore, you may be exposed to heights or cliffs and narrow chasms.
Where to Stamp Your National Parks Passport Book
Don't have a national parks passport book? Purchase one here and start collecting your stamps! Or, buy your own notebook or stamp some postcards – the stamps are free for you to use on whatever you please.
NOTE: Do not stamp your country-issued passport with these! This could render them invalidated.
Arches National Park Visitor Center and Bookstore
Stamps for Arches National Park, Utah can be found at the visitor center and its bookstore. While they're in the same building, the stamps differ at each location. The stamp pictured below featuring Delicate Arch is found in the bookstore (one small and one large) while the other is located at the Arches National Park Visitor Center stamping station.
Pin Visiting Arches National Park in Utah: The Parks Expert Travel Guide