So, you're planning a trip to Zion National Park? It can be pretty challenging, I know. There's a lot to consider: the time of year, the crowds, the plethora of trails… the list goes on and on.
Don't worry – your favorite park enthusiast is here to answer all of these questions and more.
One thing is for sure: visiting Zion National Park is an incredible experience, and you will absolutely love this amazing national park. Read on for where to stay, how much time to spend, and more.
This post may contain affiliate links. If you make a purchase, I may earn a small commission at no additional cost to you. For more information, view my privacy policy.
Zion National Park Map
One thing you will definitely need when visiting Zion National Park is a map. The park's official website has a ton of maps available. This includes hiking maps, a map of Zion Canyon, a map of the surrounding area, a wilderness map, and more.
There's also a very handy interactive map you can use to help plan your trip. You can click on the map above to download and enlarge a map of Zion National Park in its entirety.
Fun Facts About Zion National Park
Zion National Park was established as Mukuntuweap National Monument on July 31, 1909, by President Taft. On November 19, 1919, its name was officially changed to Zion National Park by an act of Congress. Zion National Monument, now known as Kolob Canyons, was established on January 22, 1937, before becoming part of Zion National Park on July 11, 1956.
An estimated 4.3 million people visited Zion National Park in 2018, making it one of the most popular national parks in America.
Mormon pioneers in the 1860s named the canyon Zion, a Mormon term meaning a place of safety or refuge.
Zion National Park protects 148,732 acres (232 square miles) of land. Of that area, roughly 84% is congressionally designated Wilderness.
Why is Zion a National Park?
According to Zion National Park's foundation document:
"the purpose of Zion National Park is to preserve the dramatic geology including Zion Canyon and a labyrinth of deep and brilliantly colored Navajo sandstone canyons formed by extraordinary processes of erosion at the margin of the Colorado Plateau; to safeguard the park's wilderness character and its wild and scenic river values; to protect evidence of human history; and to provide for scientific research and the enjoyment and enlightenment of the public."
When to Visit Zion National Park
Zion National Park Weather
Zion National Park is located in Utah's desert. That means that winters are relatively mild, but the higher elevation does bring snow and ice. Furthermore, the summers can be dangerously hot.
It's very important to drink lots of water when visiting Zion National Park. The chart above depicts temperatures and precipitation from 2017.
Visiting Zion in Winter
I visited Zion in February 2019, marking my first winter visit. In my opinion, winter is the best time to visit.
The best thing about visiting Zion National Park in the winter is you are able to drive the Zion Canyon Scenic Road. In the busier months, this is only accessible by Zion Shuttle.
Furthermore, the crowds are much smaller. Trust me, they exist, but it's nothing compared to what you'll experience in the summer months. Plus, you won't have to worry about exorbitant temperatures.
Visiting Zion in Summer, Spring, or Fall
The most important difference you need to know about visiting Zion National Park any time other than winter is the Zion Shuttle system. During the busiest times of the year, the Zion Canyon Scenic Drive is closed to personal vehicles.
Furthermore, it gets hot. Like, really hot. It's quite dangerous to visit Zion without being properly hydrated, so be absolutely sure you are prepared. Bring sunscreen, multiple bottles of water, and a hat to protect yourself. We'll dive deeper into what you should pack for your trip later on.
Lastly, expect crowds. More and more people are visiting Zion National Park every year. It's very important to use the shuttle system to avoid overcrowding, traffic jams, and full parking lots. Doing activities earlier in the day will help avoid crowds and the desert heat.
Getting There and Getting Around
The closest airport to Zion National Park is in Las Vegas. I recommend using Skyscanner for purchasing the least expensive tickets and getting the best deals. From there, you can rent a car or join a tour.
Again, March through October is the busiest time for visiting Zion National Park. This is when the park has a free shuttle you can ride in order to avoid traffic jams and congested parking areas. If you want to travel the Zion Canyon Scenic Drive, you'll be required to do so via the park shuttle.
Just as the park becomes crowded, so does the nearby town of Springdale. The city has also started its own shuttle system to bring visitors from their lodging into the park. This helps eliminate more traffic problems and leaves essential parking spaces available to others.
While the shuttle itself is free, it will cost you to park. Various rates for the parking areas in Springdale can be found here.
How Much Does Zion National Park Cost?
Zion is one of America's National Parks that charges a fee to enter. These fees go directly back to the National Park Service in order to continue visitor operations and general maintenance.
Zion National Park charges $35 per vehicle for one week; this includes private vehicles with no more than 15 passengers. Furthermore, motorcycles are $30 and individuals without a vehicle are $20 each (all valid for seven days).
America the Beautiful Passes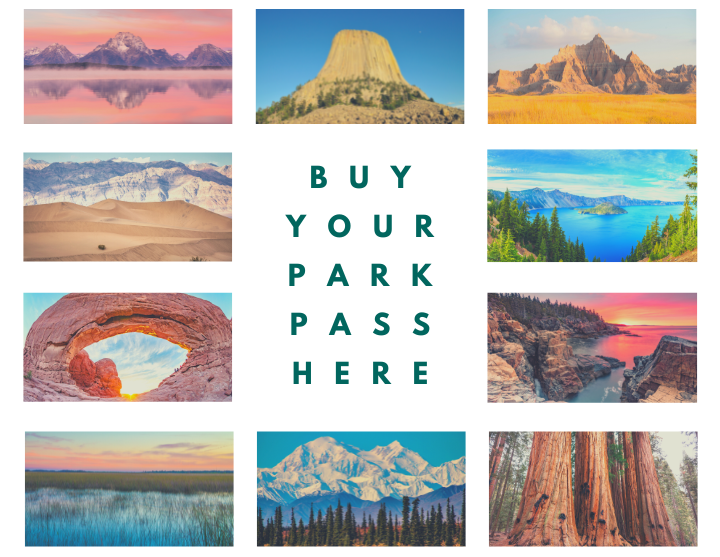 If you're visiting other national parks in the area, the smartest thing to do is purchase an America the Beautiful Pass. Annual passes cost $80 and will admit everyone in the vehicle at most national parks around the country.
If you're currently serving in the United States military, have volunteered for a national park, are in fourth grade, or have a permanent disability, you may be eligible for one of the free passes issued by the National Park Service.
Lastly, there is an annual pass for seniors 62 and older for $20. Seniors are also able to purchase a lifetime pass for $80.
How Much Time in Zion National Park Do I Need?
One Day in Zion National Park
If you're visiting Zion National Park in only one day, you won't have the chance to hike some of Zion National Park's best trails. The more challenging trails here reward you with the greatest views and experiences.
For one day, I would recommend driving the park's two roads, stopping by the visitor center or one of the museums, and hiking the Canyon Overlook Trail.
Read my itinerary for one day in Zion to learn more.
Multiple Days in Zion National Park
Honestly, the more time you have to spend here, the better. That's probably true for every destination on the planet, but in Zion it's critical.
If you're an avid hiker like myself, you probably have things like Angels Landing and The Narrows on your list. Each of these will require its own day to complete, especially The Narrows.
If you're hoping to do more hiking in Zion, maybe to the popular Subway area, I'd recommend at least three days to squeeze everything in.
Places to Stay Near Zion National Park
I'll be completely honest: on my most recent visit to Zion, I stayed with a park ranger friend. Therefore, my recommendations on Zion National Park hotels are admittedly lacking personal experience. However, there are some pretty cool places to stay that I look forward to trying someday.
That being said, I did stay at a pretty neat place back in 2014! This was the first time I visited, and I found some pretty sweet Zion National Park lodging if I do say so myself.
At Ponderosa Ranch Resort, we got to stay in a pioneer wagon at this point on our epic road trip. Since we entered Zion from Bryce Canyon, it was a pretty great location as well.
One of my favorite travel bloggers also recommends the La Quinta Inn in Springdale. For more lodging options, I recommend reviewing listings on Booking.com.
Generally, I would recommend staying in Springdale rather than St. George. Lodging in Springdale can be pricey, but you'll be much closer to the park and save money on gas. While St. George has cheaper accommodations, the distance is a huge factor when considering the limited time and high gas prices.
If you'd like to stay within Zion National Park, I would look into campgrounds and the Zion Lodge. If you stay at the lodge, you'll actually be able to drive your car on the Zion Canyon Scenic Drive in order to park at the lodge (make sure you grab your red permit!). The downside is the expense – staying here costs a pretty penny, to say the least.
Zion National Park Camping
As for Zion campgrounds, there are two in Zion's frontcountry (Watchman and South Campgrounds) and the primitive Lava Point Campground.
Watchman is the only campground open year-round. It's also the largest with 164 sites while South and Lava Point have 117 and 6, respectively.
Reservations can be made at reservation.gov. Reservations are strongly encouraged, especially from March to November when sites fill up more quickly.
Zion National Park Hikes
There are so many trails in Zion National Park that I could never describe them all here. I'll discuss some of the more popular ones and some I have done before. If you're interested in learning more, check out my post on the best hikes in Zion.
The Narrows
Hiking The Narrows was one of my favorite things we did when visiting Zion National Park. We conquered this trail in the winter, and it was incredible. I had such a great time, I wrote a full post on hiking The Narrows in winter. In summary, here's what you can expect.
The Narrows is a series of slot canyons in Zion National Park formed by the North Fork of the Virgin River and a few additional streams.
In winter, it requires a dry suit to keep you warm and dry. Despite the cold temperatures, it's very enjoyable.
However, you have to watch out for falling ice, which can be pretty terrifying when you hear it echoing through the canyon.
How far you go on is up to you. Generally, people try to make it to the Wall Street section in one day and begin at the Riverside Walk Trail. You can also plan a backpacking trip and camp along the way.
Most importantly, check the weather before you go. If it is supposed to rain or snow, I do not recommend this trail. Flash floods are common here, and extremely dangerous. Depending on the direction you travel, you may require a permit for this hike.
The Narrows via Riverside Walk
Difficulty: Strenuous
Start: Temple of Sinawava (Shuttle Stop #9)
Distance (roundtrip): 9.4 miles / 15.1 km
Elevation Change: 344 feet / 102 m
Estimated Hiking Time: 8 hours
Angels Landing
Arguably, this is the most famous trail in Zion National Park. It requires ascending multiple switchbacks, hiking with minimal shade, and scaling the spine of a fin using metal ladders in the rock.
I like to think there are two kinds of people in this world: those who read that last sentence and thought, "that sounds epic" and those who thought, "absolutely not". If you're of the former, check out my full guide on hiking Angels Landing.
If hiking the full trail makes you nervous, try stopping at Scout Lookout or hiking the alternative Observation Point for a similar view without as much adrenaline.
Observation Point is still a strenuous trail, but the drops aren't as steep and it's actually higher than Angels Landing.
Use extreme caution – many people have died on this trail.
As of 2022, reservations are required to hike this trail.
Angels Landing via West Rim Trail
Difficulty: Strenuous
Start: The Grotto (Shuttle Stop #6)
Distance (roundtrip): 5.4 miles / 8.7 km
Elevation Change: 1,488 feet / 453 m
Estimated Hiking Time: 4 hours
Observation Point via East Rim Trail
Difficulty: Strenuous
Start: Weeping Rock (Shuttle Stop #7)
Distance (roundtrip): 8 miles / 12.9 km
Elevation Change: 2,148 feet / 655 m
Estimated Time: 6 hours
Emerald Pools Trails
These trails are popular in summer due to the beautiful, small waterfalls that cascade down the rocks.
They're also popular in the winter when this water forms massive icicles that drip down over the side of the rock wall. These trails can close in the winter due to dangerous falling ice, so make sure to check trail conditions before starting your hike. Always listen to park rangers and obey trail closures for your safety.
Lower Emerald Pool Trail
Difficulty: Easy
Start: Zion Lodge (Shuttle Stop #5)
Distance (roundtrip): 1.2 miles / 1.9 km
Elevation Change: 69 feet / 21 m
Estimated Hiking Time: 1 hour
Weeping Rock Trail (currently closed)
Difficulty: Easy
Start: Weeping Rock (Shuttle Stop #7)
Distance (roundtrip): .4 miles / .6 km
Elevation Change: 98 feet / 30 m
Estimated Hiking Time: 30 minutes
Upper Emerald Pool Trail
Difficulty: Moderate
Start: Zion Lodge (Shuttle Stop #5)
Distance (roundtrip): 1 mile / 1.6 km
Elevation Change: 200 feet / 61 m
Estimated Hiking Time: 1 hour
Canyon Overlook Trail
This is one of the easier trails in Zion National Park. You'll begin near the east entrance of the park at the small parking area near the Zion-Mount Carmel Tunnel.
From here, ascend a few switchbacks (nothing major; the elevation change is only 163 feet) and follow the trail to a stunning view of Zion Canyon. This is also one of the shorter hikes in Zion National Park, coming in at just one-mile round-trip. I would allow at least one hour for this trail.
This is another excellent alternative to Angels Landing if you want a great view without strenuous hiking. This trail is also great if you have limited time when visiting Zion National Park.
Canyon Overlook Trail
Difficulty: Moderate
Start: Near the East Entrance of Zion-Mount Carmel Tunnel
Distance (roundtrip): 1 mile / 1.6 km
Elevation Change: 163 feet / 50 m
Estimated Hiking Time: 1 hour
The Subway
Another popular hike I have not done in the park is The Subway, which requires a backcountry permit. Visitors without extensive route-finding skills are discouraged from hiking this route.
No matter which direction you choose to travel, you can expect to hike at least nine miles over strenuous terrain. You may also need rappelling skills depending on your route.
The Subway from the Bottom Up
Difficulty: Strenuous
Start: Left Fork Trailhead on Kolob Terrace Road
Distance (roundtrip): 9 miles / 8.7 km
The Subway from the Top Down
Difficulty: Strenuous
Start: Wildcat Canyon Trailhead on Kolob Terrace Road
Distance (roundtrip): 9.5 miles / 8.7 km
Zion National Park Scenic Drives
US Highway 9
This is the only road that accesses the park. You can enter from the south (in Springdale) or east (coming from Bryce Canyon). This road remains open year-round for private vehicles.
This is also the road that features the Zion-Mount Carmel Tunnel. The tunnel has windows you can look out to view the canyon. Remember, no stopping in the tunnel! This causes traffic jams.
Furthermore, on this road, you can see the famous Checkboard Mesa rock formation and access the park's visitor center.
Zion Canyon Scenic Drive
This is the road that remains closed to private vehicles for the majority of the year. But have no fear – there's a free shuttle you can take to access the beautiful Zion Canyon.
The shuttle also stops at various parking areas in order to allow visitors access to popular trailheads, such as The Grotto for Angels Landing and the Temple of Sinawava for The Narrows.
Kolob Canyons
Kolob Canyons is probably Zion National Park's best-kept secret. Despite being one of the busiest national parks in the country, I would venture to say that very few are aware of this area.
To get here, you'll have to travel north of St. George and Hurricane on I-15. The drive north is worth it to enjoy the views without the crowds.
When I visited in May, this was also one of my favorite places in the park (probably because there were so few people). If you're hoping to avoid the crowds when visiting Zion National Park, head straight here.
More Things to Do in Zion National Park
Visit the Human History Museum
Zion's Human History Museum is located near the south entrance of the park. Here, exhibits display the human history of Zion National Park.
This includes the American Indian culture, early Mormon pioneer settlement, and the establishment of Zion National Park. Temporary exhibits may also showcase other elements of Zion's unique history.
Biking
Bicycling is permitted on Zion's roads and the Pa'rus Trail. Bikes are not allowed off-trail, on other trails, or in the tunnel.
Sunset and Stargazing
Many people like to stand on a bridge near the Zion Canyon Scenic Drive to watch the sunset shine a beautiful light on Watchman (a prominent rock formation).
While it is definitely a beautiful scene, please use caution and do not stand in the roadway. This is very dangerous and can cause traffic jams.
Instead, take a short walk on the Pa'rus Trail for a better, safer view. The museum patio is another great option.
Stargazing is also a popular activity at Zion National Park. For more information, head here.
Climbing and Canyoneering
Other common recreational activities in Zion National Park and the surrounding area include canyoneering and rock climbing.
There are many regulations for both, and most areas require a permit. For more information, visit the park's website.
Attend a Ranger Program
Did you know that Park Rangers at each national park deliver interpretive programs to visitors? These explain various elements of the parks and why they're so special to the people of America and the world.
Park Rangers at Zion National Park lead a variety of programs. Topics include geology, plants, wildlife, and more. Walks are also a popular option and occur daily on the Watchman Trail.
For more ranger-led activities, visit this webpage.
Where to Stamp Your National Parks Passport Book
Don't have a national parks passport book? Purchase one here and start collecting your stamps! Or, buy your own notebook or stamp some postcards – the stamps are free for you to use on whatever you please.
NOTE: Do not stamp your country-issued passport with these! This could render them invalidated.
Zion Canyon Visitor Center and Bookstore
The main visitor center includes Zion National Park's main bookstore. Here, you can collect a few different stamps. This includes one that says Springdale, UT, another with an image of the Watchman, and one for the Zion National Park Forever Project.
Kolob Canyons Visitor Center
Here, you can find a stamp for Kolob Canyons and another Zion National Park Forever Project stamp.
Zion Human History Museum
The Human History Museum has its own stamp in addition to those with Springdale, UT, and the Zion National Park Forever Project as in the main visitor center.
What to Pack for Zion National Park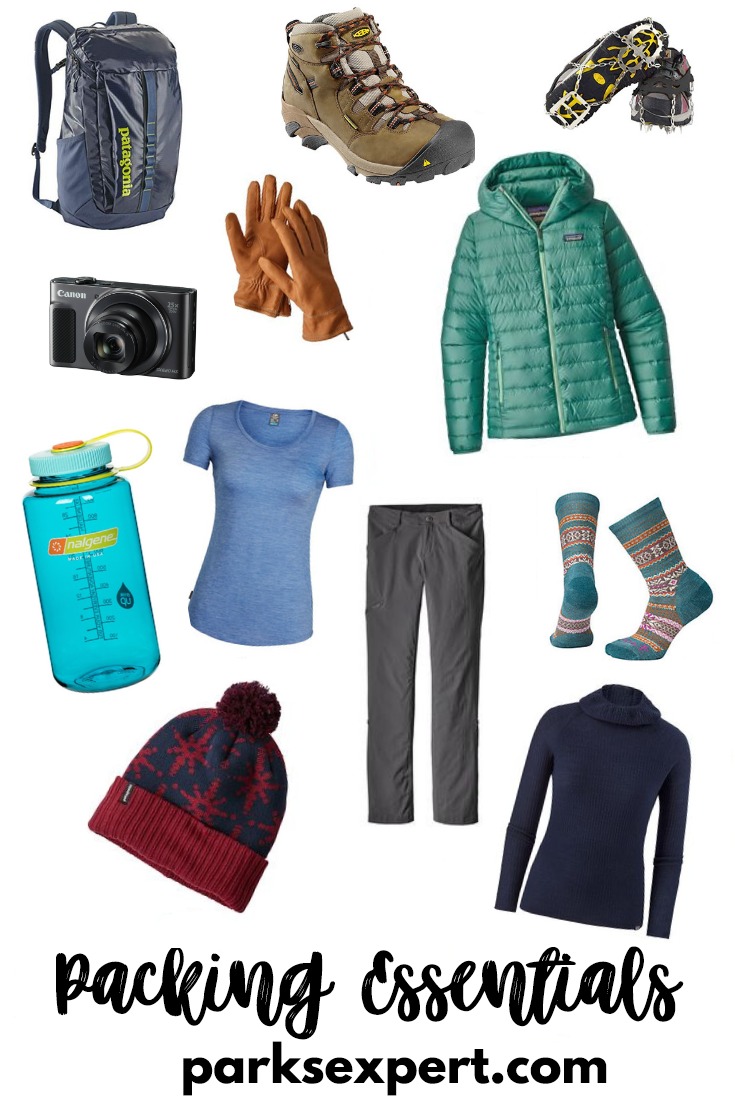 Packing for a trip to the desert can be tricky. Depending on the time of year, temperatures can range from over 100 degrees Fahrenheit during the day to 50 degrees once the sun sets. If you're visiting in the winter, it may even snow.
Here's a list of things you may need, with some items varying based on the season you decide to visit. For more ideas on what to pack for Zion, check out my post on the best backpacking and hiking gear.
Pin Visiting Zion National Park Guide from The Parks Expert