If you're looking for things to do in Kings Canyon National Park, look no further! This guide will take you through the best hikes, scenic drives, and campgrounds in the park.
You'll also learn about the sequoia trees and canyons that make this park so famous and find out where to find some of the most beautiful waterfalls in the area.
Kings Canyon National Park is a beautiful place to explore. With towering mountains, rushing rivers, and giant sequoia trees, there's something for everyone to enjoy. Here are our favorite things to do in Kings Canyon.
This post may contain affiliate links. If you make a purchase, I may earn a small commission at no additional cost to you. For more information, view my privacy policy.
Land Acknowledgment: This post promotes travel to native lands for the following nations: Western Mono/Monache, Eastern Mono/Monache, Tübatulabal, and Yokuts. We honor all Indigenous caretakers of these lands and waters, the elders who lived here before, the Indigenous today, and the generations to come.
Best Things to Do in Kings Canyon National Park
Don't forget about the fantastic things to do in Sequoia National Park, which neighbors Kings Canyon via the Generals Highway and can easily be combined into the same trip!
Sequoia National Park is where you'll find the Giant Forest Museum, Crystal Cave, Congress Trail, General Sherman Tree, Moro Rock, Crescent Meadow Road, Tunnel Log, and more.
1. Hike to the General Grant Tree
This is the second largest tree on the planet! It's also the only living memorial and the nation's Christmas tree. While the General Sherman tree is the largest tree in the world, the General Grant tree is actually wider. It's an amazing sight to behold, and easily one of the best things to do in Kings Canyon.
You'll see more giant sequoias, too, as you walk the loop trail. One of our favorites is the Fallen Monarch, a fallen sequoia that is hollowed out. It used to serve as a saloon!
The Grant Tree parking lot fills quickly, especially on weekends, so arrive early. There is no shuttle system in Kings Canyon National Park. Many visitors walk from the Kings Canyon Visitor Center or their campground, which helps with parking congestion.
Check with a park ranger to see if any programs are taking place in the area while you're there! From a ranger, you can learn more about the amazing history of Kings Canyon National Park in addition to astounding facts about these giant trees. You can also check the official website's calendar of events.
2. Drive Up to Panoramic Point
This scenic drive leads to beautiful views of Kings Canyon, one of the deepest canyons in North America. Yes, it's among the ranks of Grand Canyon and Black Canyon of the Gunnison national parks!
Panoramic Point is a great place to watch the sunset or enjoy a picnic.
There are several pullouts along the road where you can stop to take photos and admire the view. However, be aware that some of these areas are frequented by bears, so it's important to keep your food locked up and out of sight.
Do not attempt to drive up Panoramic Point if the road is closed due to snow.
3. Hike to Roaring River Falls
This short hike is easy and accessible. It leads to a stunning waterfall flowing into a teal pool. It's a great place to cool off in the breeze on a hot day or have a picnic lunch.
The trail is only 0.75 miles (one-way), but it can be slippery in places so use caution. You'll also want to bring mosquito repellent as there can be quite a few bugs near the water.
No swimming allowed!
4. Hike Zumwalt Meadow Loop
An easy hike with granite dome views that give Yosemite National Park a run for its money. The Zumwalt Meadow Loop is one of the most popular things to do in Kings Canyon National Park. You'll begin to understand why Kings Canyon is often nicknamed "Yosemite without the crowds".
The trailhead starts along the highway and is well-marked. The entire loop is only about three miles, but you can extend it by taking one of the many side trails.
Keep your eyes peeled for wildlife!
Note: Due to trail damage, part of this trail remains closed and the full loop is not accessible. It's still worth the short hike that remains open, though! Please do not hike beyond the trail closure.
5. Drive the Kings Canyon Scenic Byway
The only way to see Kings Canyon from the canyon floor is this spectacular drive. There are several Sequoia National Forest and Giant Sequoia National Monument attractions along the way, including Boyden Cave, Hume Lake, and Grizzly Falls.
The byway will close due to snow in the winter. Check the conditions before you go.
One of our favorite places to stop is Junction View for an amazing overlook of Kings Canyon and the scenic drive as it winds its way down to the Cedar Grove area.
Some people with a fear of heights find this road scary. Be prepared!
6. Hike to Mist Falls
A more challenging hike for the adventurous hiker includes a strenuous trip to Mist Falls. This is one of the tallest waterfalls in Kings Canyon National Park and it's well worth the effort to see it.
The trailhead starts at Road's End. The round trip is about 8.5 miles, so it's important to give yourself enough time and bring plenty of water.
This trail can be very crowded on weekends, so try to go during the week if possible. There's also a lot of exposure, so hiking earlier is best.
7. Climb Muir Rock
Located on the banks of the Kings River, this rock was supposedly a favorite of John Muir's when he explored the Sierra Nevada.
It's a great place for picnicking and enjoying the views of the river. It's also a popular spot for fishing, so don't forget your rod!
There is no official trail to Muir Rock, so just follow the river until you see it. Be careful not to get too close to the edge and always supervise children. Swimming in Kings River can be dangerous; check with a park ranger for water level and flooding conditions.
8. Go Rock Climbing
One of the best ways to view Kings Canyon is from above. You can do this from the Cedar Grove Overlook Trail, Lookout Peak Trail, or with some climbing rope!
Note that climbing is not allowed in the sequoia groves.
Climbing can be dangerous, so make sure you know what you're doing before you attempt it. There are several guided tours available if you want to learn more about rock climbing in Kings Canyon National Park.
Always check the conditions before you go and never climb alone.
9. Have a Picnic
There are plenty of beautiful spots along the Kings River for a bite to eat. Remember to practice bear safety and never feed wild animals, including birds, squirrels, and deer.
One of our favorite places is at Zumwalt Meadow. There's a large grassy area with views of the river and granite domes. It's the perfect place to relax and enjoy a picnic lunch.
There are also plenty of places to take a break and eat under the big trees in the Grant Grove area.
Finally, we also love Grizzly Falls. This picnic area in the National Forest land is beautiful, and the sounds of the cascading falls while you eat is marvelous.
10. Go Camping
A favorite activity for many Kings Canyon visitors is camping. You can camp in sequoia groves or near the roaring sounds of the Kings River.
There are several campgrounds to choose from. In Grant Grove, there is Azalea, Sunset, and Crystal Springs. Cedar Grove is home to Canyon View, Moraine, Sheep Creek, and Sentinel.
11. Hike the North Grove Loop
See giant sequoia trees! This is a short and easy loop, great for families. It's only about a mile long with very little elevation gain.
The trailhead starts near the Visitor Center in Grant Grove Village or the Grant Tree parking lot. The best time to go is early in the morning or later in the afternoon to avoid the heat of the day.
Along the way, see if you can find a tree named after the state you're from! Supposedly, there is one for each of the 50.
12. Go Horseback Riding
There are many local stables and pack stations to help you plan your trip. We recommend Grant Grove Stables and the Cedar Grove Pack Station.
Horseback riding is a great way to see Kings Canyon National Park. You can go on day trips or multi-day trips.
Check with the ranger station for information about where to go and what to expect. Make sure you're prepared before you go by packing plenty of water and food.
13. Go Backpacking
For the more adventurous traveler, backpacking is a great way to explore Kings Canyon National Park. The park is about 95% wilderness, so getting out there is one of the best things to do in Kings Canyon.
There are several backcountry trails to choose from. Be sure to stop by the ranger station and get a permit before you go.
One of the most popular backcountry trails is the Rae Lakes Loop.
Planning Your Trip to Kings Canyon National Park
How to Get There
Kings Canyon National Park is located in central California, about halfway between Los Angeles and San Francisco. The closest major airport is Fresno Yosemite International Airport (FAT).
If you're driving, take Highway 180 East to Kings Canyon or 99 South to Sequoia.
From Fresno, here are estimated drive times:
Cedar Grove: 2 hours
Grant Grove: 1 hour
Giant Forest: 2 hours
Foothills: 1.5 hours
Mineral King: 3 hours
When to Go
The best time to visit Kings Canyon National Park is in the summer. That's when all the trails and roads are open and you can enjoy all the activities the park has to offer.
However, it can be very hot during the day, so make sure to bring plenty of water and sunscreen.
Entrance Fee
It costs $35 per vehicle to enter Kings Canyon National Park. This fee is valid for 7 days, and includes Sequoia National Park.
If you plan to visit Yosemite or other California national parks, then it's worth investing the $80 for an annual parks pass that grants you access to all U.S. national parks for one calendar year. After you visit 3 national parks or public lands, it'll have paid for itself.
Limited Cell Reception
There is limited cell reception and internet in Kings Canyon National Park. If you're planning on using your phone or other devices while you're there, make sure to download any maps or information you need before you go.
Verizon receives good service in Grant Grove Village. No providers have service in Cedar Grove.
Be Bear Aware
There are black bears in Kings Canyon National Park.
To avoid an encounter with a bear, make sure to store all food and garbage properly. Never leave food out in the open or in your tent.
If you do see a bear, do not approach it and give it space. Do not run away from a bear, as this may trigger its chase instinct.
Where to Stay
In Kings Canyon National Park: John Muir Lodge, Montecito Lodge, Cedar Grove Lodge
Outside the park: Fivespot Cabin, Merrynook, The Branded B&B
For more lodging options, check out my posts on campgrounds in Sequoia and where to stay near Sequoia National Park.
Things to Know Before You Go
Before you go, make sure to check the conditions of the trails and roads. Some areas may be closed due to snow or other weather conditions.
Weather
The weather in Kings Canyon National Park can change quickly, so be prepared for all conditions.
Summers are hot and dry, while winters can be cold with snow.
Wildfires
During the summer, there is a risk of wildfires in Kings Canyon National Park.
Check with park rangers for any updates on current conditions. We also recommend checking on fire conditions before you go.
Even if there is not a wildfire in Kings Canyon or Sequoia, smoke from other wildfires in the Southwest could be present and affect air quality. This can make hiking dangerous. Check the local Air Quality Index before any strenuous activities.
Check the Elevation and Stay Hydrated
The elevation in Kings Canyon National Park ranges from 1,300 feet to 8,360 feet.
If you're hiking, make sure to drink plenty of water and take breaks often. The air is also drier at high elevations, so you may need to drink even more water than usual.
If you start to feel dizzy or light-headed, find a shady spot to sit down and drink some water.
Driving Distances
Kings Canyon National Park is a large park, and driving from one destination to another can take some time. While it's geographically close to Sequoia National Park, winding roads increase drive times.
Here are some estimated driving times:
Grant Grove Village to Cedar Grove Village: 60 minutes
Grant Grove Village to Giant Forest: 60 minutes
Grant Grove Village to Foothills/Three Rivers: 1.5-2 hours (depending on your route)
Nearby Attractions
Yosemite National Park: Hiking the Mist Trail, Best Hikes in Yosemite, Things to Do in Yosemite Valley, How to Spend 1-5 Days in Yosemite
Death Valley National Park: Best Hikes in Death Valley, Things to Do in Death Valley, Camping in Death Valley, 2 Days in Death Valley National Park Itinerary
Channel Islands National Park: Camping in Channel Islands, How to Get to Channel Islands, Things to Do in Channel Islands
Sequoia National Park: Best Hikes in Sequoia National Park, Visiting Sequoia National Park in Winter
Pinnacles National Park: Things to Do in Pinnacles National Park
Muir Woods National Monument: How to Secure Muir Woods Reservations
View all national parks in California
What to Pack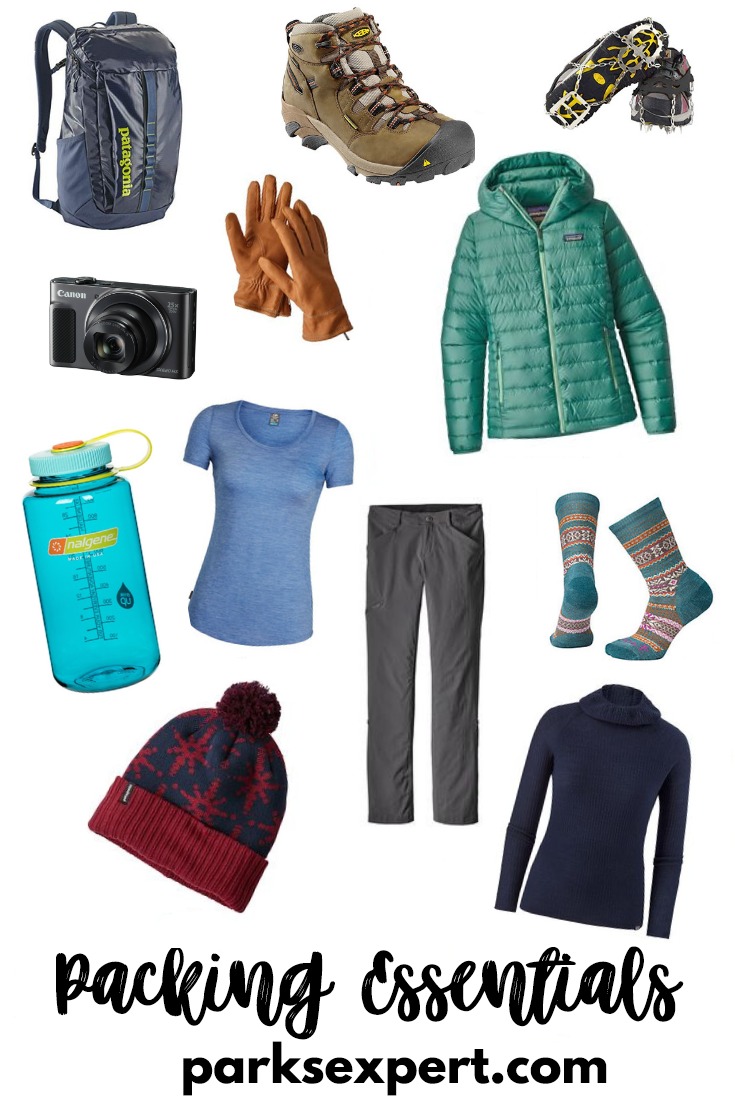 Bring plenty of food and water with you, as there are limited services in the park. Wear appropriate clothing and footwear, pack a first-aid kit, and practice Leave No Trace principles.
Hiking boots: Shoes that are good for hiking and have ankle support.
Sunscreen: The UV rays in Kings Canyon can be intense, even on cloudy days.
Bug spray: There are a lot of bugs in the park, especially near water sources.
Yaktrax: Helpful for snowy conditions.
Rain gear: The weather can change quickly in Kings Canyon, no matter the time of year. Bring a raincoat and/or umbrella just in case!
Layers: Kings Canyon's temperatures can fluctuate a lot, so it's best to dress in layers.
Snacks: There are limited food options inside the park, so bring your own snacks!
Camera: You'll want to capture the beauty of Kings Canyon National Park in photos!
Water bottle: Stay hydrated while hiking around the park!
Hat: You'll need protection from the sun and bugs.
Binoculars: Bring binoculars if you want to view wildlife in the park.
First-aid kit: You never know if you might get a cut or scrape while hiking.
Flashlight: This is helpful for late-night hikes in Kings Canyon!
Map: Bring a physical map for navigating the park.
Face mask: Masks may be required inside federal buildings and on park shuttles.
Pin the Best Things to Do in Kings Canyon National Park
That's our list of things to do in Kings Canyon National Park! We hope you enjoy your time in this beautiful place.
Do you have any favorite things to do in Kings Canyon National Park that we didn't mention? Let us know in the comments below!