The American Southwest is easily one of my favorite regions in the United States and the globe. This southwest road trip itinerary is filled with stops that appear to be out of this world no matter where you choose to go.
Every destination has something new and exciting to completely blow your mind. Whether it's Bryce Canyon's hoodoos or the Mars-like landscape of Capitol Reef, the national parks in Utah and Arizona are some of the country's most outstanding and are guaranteed to take your breath away.
With Las Vegas as an easy gateway to these incredible natural wonders, an epic American Southwest road trip should be on everyone's bucket list.
Here's the perfect southwest road trip itinerary to see the best of what this amazing region has to offer in 12 days.
This post may contain affiliate links. If you make a purchase, I may earn a small commission at no additional cost to you. For more information, view my privacy policy.
The 12-Day Southwest Road Trip Itinerary Through America's National Parks
Wilderness is not a luxury but a necessity of the human spirit, and as vital to our lives as water and good bread.

– Edward Abbey
Day 1: Fly to Las Vegas
I'll be honest, Las Vegas isn't my favorite. What can I say? I'm just not a city person. The city has so much glitz and glam, way too many people, and man is it bright or what?
But you know what surprised me? I had fun. To be in a place completely different from the cities I usually visit was kind of thrilling.
Furthermore, even though it's not necessarily my idea of a good time, it was cool to see the strip and learn what everyone is always raving about.
Most importantly, though, Las Vegas is the perfect jumping-off spot for a southwest road trip. There's plenty to do, both in the city and just outside.
Plus, if you're looking for more outdoorsy things to do before you visit some of Utah and Arizona's national parks, Las Vegas is surrounded by opportunities.
Where to Stay: Luxor, Bellagio, The Venetian Resort
Where to Eat: If you want to do things the Las Vegas way, have dinner on the strip or at a diner in the middle of the night.
Things to Do: Red Rock Canyon Conservation Area, Seven Magic Mountains, Valley of Fire State Park, Lake Mead National Recreation Area, Hoover Dam
Day 2: Drive to Zion National Park
One of the most popular national parks in Utah and the country, Zion is home to world-class climbing, canyoneering, and hiking. It's the perfect destination for outdoorsy people looking for an adventure.
The park also has plenty to do for those who want to sit back, relax, and take in the stunning views at a more leisurely pace.
Check out The Parks Expert travel guide for everything you need to know about visiting Zion National Park.
Drive Time: 2 hours
Where to Stay: Staying in Springdale will be a bit more costly than in towns like Hurricane further away from the park. Check out the La Quinta, Holiday Inn, Zion Park Motel, Best Western, and Zion Canyon Lodge for some options. You can also camp in Zion!
Where to Eat: Oscars, Zion Pizza & Noodle Co, Zion Brew Pub, Bit and Spur
Day 3: Zion National Park
There are so many great things to do in Zion, no matter what season you choose to visit.
Things to Do: Kolob Canyon, Zion Canyon Drive, Zion-Mt. Carmel Tunnel
Hiking Trails: Angels Landing, The Narrows, Canyon Overlook, Observation Point, Lower Emerald Pool [read more of the best hikes in Zion]
Day 4: Drive to Bryce Canyon National Park
Easily the most seemingly out-of-place, Bryce Canyon National Park is home to towering hoodoos and epic trails. I promise it will take your breath away.
This park is honestly like no other place you've seen before, and it makes it worthy of a lengthy visit if you have the time. It's best explored on one of the many Bryce Canyon hikes.
Drive Time: 2.5 hours
Stops Along the Way: Cedar Breaks National Monument, Zion-Mt. Carmel Tunnel
Where to Stay: Best Western Plus, Best Western Plus Ruby's Inn
Where to Eat: Hotel buffet
Things to Do/Hikes: Check out the variety of viewpoints, Navajo Loop Hike, Mossy Cave Trail, Sunrise Point, Sunset Point, Scenic Drive [here are more things to do in Bryce Canyon]
Day 5: Drive to Moab via US-12
Hands down, US-12 in Utah is the most beautiful drive I've ever taken, and shouldn't be missed on your southwest road trip.
It beats driving Ireland's Wild Atlantic Way, the Road to Hana, and every other scenic drive I've had the pleasure of undertaking. The beauty is breathtaking, and while the drive will take a bit longer than the most direct route, you will not regret it.
To see desert landscapes and snow-covered mountains, take US-12! Stop in at the Interagency Visitor Center near Grand-Staircase Escalante National Monument in Escalante and Capitol Reef National Park for more stunning views.
Drive Time: 5 hours
Stops Along the Way: Grand-Staircase Escalante National Monument, Capitol Reef National Park
Where to Stay: Airbnb (start here for $55 off your first stay!)
Where to Eat: Moab Brewery, Zax, Peach Tree, Sweet Cravings
Things to Do: Goblin Valley State Park, Dead Horse Point State Park
Day 6: Canyonlands and Arches National Parks
Stay another night in Moab and take in the sites at two more of Utah's incredible national parks. If you have time, consider spending multiple days here to really see the most these two parks have to offer.
If you leave early enough on Day 5, you could potentially see Canyonlands National Park that evening and have a full day in Arches on Day 6.
Canyonlands National Park
Canyonlands National Park is unique in that it has three areas to explore: The Needles, The Maze, and Island in the Sky. The Island in the Sky District is closest to Moab and the least primitive area of the park, making it easiest to traverse.
Things to Do: Mesa Arch, Upheaval Dome, scenic drives, check out the viewpoints, Grand View Point, stargazing, horseback riding, hiking
Arches National Park
Having been to Utah's mighty five national parks multiple times, Arches National Park remains my favorite. I don't know exactly what it is about these natural rock formations that make my heart soar, but it's always such a pleasure to see them. I never tire of these amazing features and the other unique rock formations in this park.
Things to See/Do: Landscape Arch, Delicate Arch Trail, Fiery Furnace, Balanced Rock, The Windows, Devils Garden, Park Avenue [read about more hikes in Arches National Park]
Day 7: Drive to Page, Arizona
This was the most disappointing day for us, and it was all due to the weather. That being said, we still saw some spectacular scenery. No southwest road trip itinerary is complete without the stunning Monument Valley (pictured above, and seen in countless films and TV series), unique natural bridges, or Navajo cliff dwellings.
Drive Time: 5.5 hours
Stops Along the Way: Natural Bridges National Monument, Monument Valley, Navajo National Monument
Where to Stay: Wingate by Wyndham
Where to Eat: El Tapatio, State 48, Big John's Texas BBQ, Slackers
Day 8: Explore Page
Honestly, I didn't have high expectations for our visit to Page. However, it ended up being one of the highlights of our trip. The city itself wasn't the most exciting place in the world, but the surrounding area will leave you speechless.
Things to Do: Glen Canyon Dam, Powell Museum, Horseshoe Bend (part of Glen Canyon National Recreation Area), Antelope Canyon, Toadstools
Day 9: Drive to Flagstaff via Grand Canyon National Park
Another staple of America, and a must-see on any southwest road trip, how can you not stop at the Grand Canyon? One of the most iconic national parks in America, be sure to plan ahead for your visit: it can be extremely crowded!
Drive Time: 5 hours
Stops Along the Way: Grand Canyon National Park
Where to Stay: La Quinta, Days Inn, Little America Hotel, Hotel Aspen
Where to Eat: Northern Pines, Nomads Global Lounge, Criollo Latin Kitchen, The Cottage, Brix, Tinderbox Kitchen
Things to Do: Take in the scenic views, take a scenic drive, hike to Mather Point, explore old Route 66
Day 10: National Parks from Flagstaff to Sedona
Another highlight of our southwest road trip was exploring some of the lesser-known national parks in Arizona.
This included the ruins of Wupatki, the scenery at Sunset Crater Volcano, and the cliff dwellings at Walnut Canyon and Montezuma Castle. All of these are definitely worth a stop while you're in the area!
Drive Time: 1 hour
Where to Stay: Arabella, Green Tree Inn, Wildflower Inn, Cedars Resort, Sky Ranch Lodge
Where to Eat: Golden Goose, Mariposa, Rene, Oak Creek Brewery, Pump House Station
Things to Do: Wupatki National Monument, Sunset Crater Volcano National Monument, Walnut Canyon National Monument, Montezuma Castle National Monument
Day 11: Sedona to Las Vegas
The red rocks of Sedona are indeed something special. Another place on the list I wasn't overly excited to visit (especially with so little time), I was pleasantly surprised once again. Maybe you could schedule a later flight from Las Vegas and spend more time in one of Arizona's gems.
Drive Time: 4 hours
Stops Along the Way: Tuzigoot National Monument, Hoover Dam, Lake Mead National Recreation Area
Things to Do: Chapel of the Holy Cross, Cathedral Rock Hike, Jeep Tours, Devil's Bridge Trail, Airport Mesa
Day 12: Fly Home from Las Vegas
After another fun night on the strip in Las Vegas, bid the southwest adieu for now.
Safe travels!
Have you ever taken a road trip in the southwest? Tell us about it in the comments.
What to Pack for Your Southwest Road Trip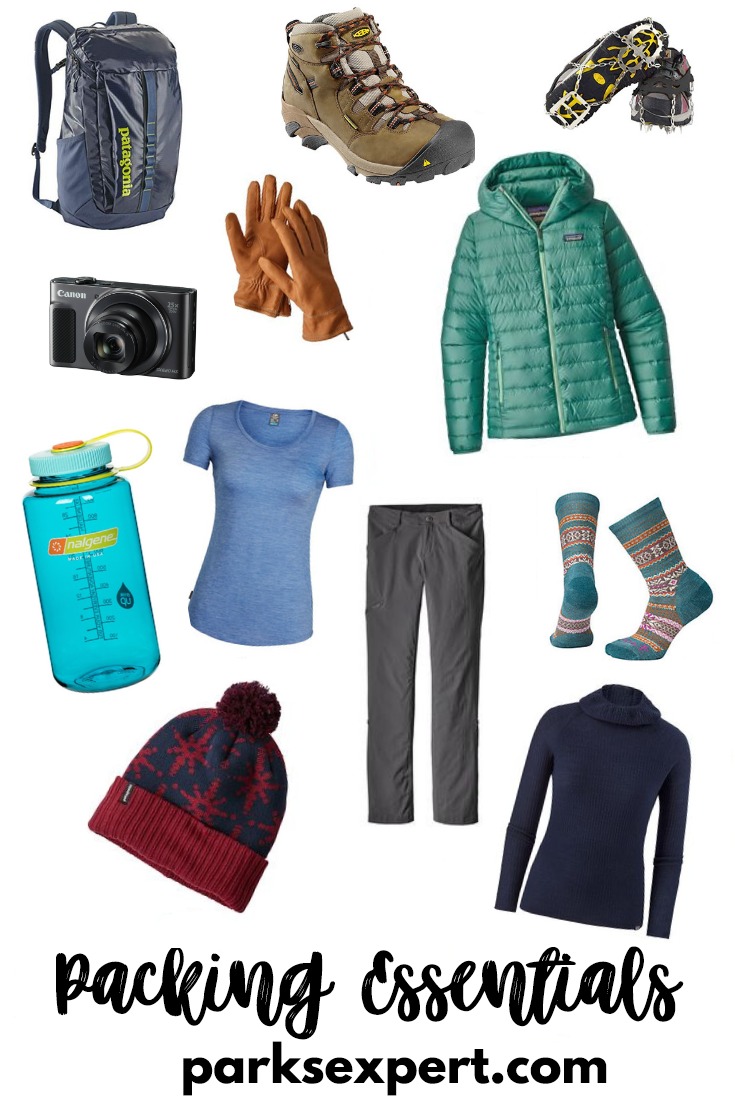 Packing for a trip to the desert can be tricky. Depending on the time of year, temperatures can range from over 100 degrees Fahrenheit during the day to 50 degrees once the sun goes down. If you're visiting in the winter, it may even snow. Here's a list of things you may need, with some items varying based on the season you decide to visit.
Check Out More About Road Trips to National Parks
Pin National Parks in the Southwest Road Trip Itinerary